Full Scale Testing: Innovation At Every Step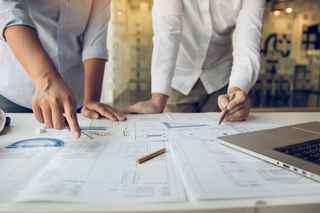 For engineers, being inventive is both a necessary aspect of their job and one of the greatest perks. With over 40 professional engineers, and a handful of EITs, Wells can design, produce and build any landmark you imagine. Several of our engineers work full time on process improvement and product development, bringing a new way of thinking and creating to all departments.
Wells dedicates  our resources to innovation solely to inspire pride within communities and help them thrive by transforming how our partners think, design, construct, and succeed. One aspect of this is innovation is full-scale testing. Full-scale testing is the process of making a full-size piece of concrete and evaluating the performance. While testing can take shape in many different forms, sometimes purposely breaking a product is an important aspect of testing.
There are many reasons for full-scale testing, including: validating design methods, developing new products, and developing new processes. In fact, our team of engineers are involved in testing ranging from validating double tee designs  to a strand bond quality assurance test.
Usually time testing is well-planned and organized but sometimes it is necessary to skip the scientific process and simply 'overload it' and see what happens. These are just a few examples of our dedication to quality and innovation. The Wells team will continue to find new ways to solve problems and deliver the best solutions. And if that means breaking products, we'll do that too.