Building An Engineer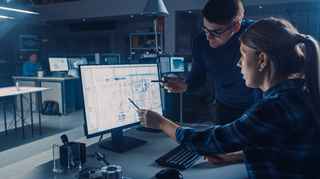 Wells has recently formalized a training program we refer to as the Engineer Development Program (EDP). Our goal is to take young engineers fresh out of college and give them broad exposure to the entire business: making them well-rounded and preparing them to become registered. It also gives them a glimpse into other avenues that they may wish to pursue later in their career.
The EDP program starts out with time spent in Field Services. We like them to see what it's like to put a building together before they ever get to put pencil to paper. It also provides learning opportunities to observe other trades (excavation, underground utilities, flat work, steel, masonry, etc.) at work as well as real-world, real-time problem-solving.
After Field Services, our young engineers move onto the production floor and see what goes into the pieces we make and how everything needs to fit together and perform its function. This position requires on-the-spot problem-solving skills.
After that, we introduce them to the Drafting and Engineering world. Flexural members, wall panels, cladding systems, lateral systems are all part of the rotation. D&E also works closely with the Sales and Project Management departments which leads to exposure to Architects, EORs, contractors, and owners.
Once they've completed the approximately four-year rotation, we actively promote our engineers to sit for the Professional Engineer examination and we feel that the EDP program will give them adequate skills and knowledge to pass said exam. Naturally, we like our engineers to stay in the D&E department but we also encourage them to do what they enjoy.
Number crunching mishmash day after day isn't for everybody. Currently, we employ 21 Professional Engineers spread across every department in the company other than Accounting because, frankly, it's accounting and engineers can't function in a world where 2+2 doesn't always equal 4.
For more information regarding our Professional Engineer Development Program, take a look at our brochure.
Over the course of this past year, our team has had 5 engineers pass the Professional Engineer Exam. Aware of this milestone in each of their careers, we wanted to take the time to ask each team member a few questions as they pertain to the exam, and how it relates to both their professional and personal development.



How do you think this certification will contribute to your career development/growth?
I believe certification will allow me to take on more responsibility in my career and helps inspire others' confidence in me to take on new tasks.
This certification will come with more responsibilities and opportunities to grow, learn, and experience new challenges as technology and codes evolve. It will also play a role in encouraging and mentoring Engineers-In-Training starting off in their new career.
Receiving licensure distinguishes me as an engineer and demonstrates that I am committed to my profession.  My hope is that my licensure will allow me to pursue more challenging and rewarding projects while simultaneously providing opportunities for career advancement.
What interested you in pursuing a career in engineering?
When I was young, I always loved figuring out how things worked. As a kid I went to work with my dad, who is a carpenter, and fell in love with construction. I knew I wanted to do something in construction, but watching my dad come home every day and not have energy for hobbies... I wanted to do something less labor-intensive. With my interest for figuring out how things work and solving problems, construction, and my skills with technology and math, structural engineering was a natural fit.
I enjoyed math and physics in school and was exposed to some major projects as a teenager such as the Confederation Bridge in Canada. I was amazed by the scale of that project and felt that structural engineering would combine my interests with my preferred courses in school. I also had some friends of the family who were engineers who helped inspire me to pursue it as a career.
What has been your most rewarding experience?
The moments I find most rewarding as an engineer are when the chips are down and people are hoping you can come up with a quick and cost-effective solution. When an issue comes up either in Production or Erection that has a sense of urgency, there's a thrill to engineering yourself out of a corner to come up with not only the safe answer, but the practical and feasible one as well.
My most rewarding experience as an engineer has been the process of being a part of a team, spending weeks of hard work and problem solving on paper, seeing life size Legos come out of the plant, and then finally put together as a fully finished structure. It reminds me of my Grandpa's bridges and how I dreamed that I could be like him.
For me, the most rewarding experience as an engineer has been teaching younger engineers and students about the industry and being a resource for them to go to.
What has been your most challenging experience as an engineer?
The most challenging aspect of being an engineer is how open-ended and ambiguous design work can be. It's not like a test where you're provided with just enough information to solve the problem. I often find myself contending with too little information, too much information, too much room for interpretation, insufficient tools for the task, or a mixture of them all. Navigating through a not-so-straightforward field of data can be misleading so you have to really keep your focus on the objective at hand.
My most challenging experience as an engineer has been growing in my understanding of the difference between engineering in the classroom versus work. There are still right and wrong answers, but problems solved at work usually do not have one well-defined and universally correct answer. Communication and collaboration are necessary and will aid in developing stronger confidence and engineering judgment.