At the core of every single construction project is the structure, providing the framework to support a variety of superstructure elements, built to last. When it comes to making a building, bridge or parking structure that stands out in the community, Wells Structural Systems provide numerous durable and strong options to support any building type.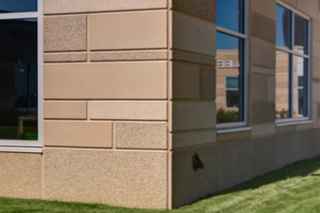 Insulated & Solid Wall Panels
Wells offers wall panels to serve a variety of industries from manufacturing to K12 to office. Economical to produce, erect and maintain, structural load bearing wall panels can eliminate the need for perimeter columns, creating virtually unlimited design possibilities.
When aesthetics are important, we offer maximum design flexibility with a limitless set of colors, textures and shapes to create a dramatic range of architectural expression.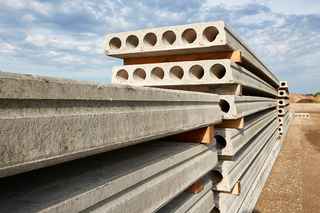 Hollowcore
An economical solution floor and roof building systems with continuous voids to reduce weight and cost, Hollowcore uses up to 10% less cement than other materials, also reducing carbon footprint. Hollowcore's strength and durability allows for significant floor loads and clear spans — which can be used in many different building types.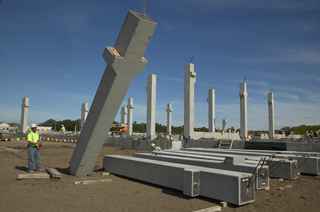 Columns & Beams
Inverted Tee Beams and L Beams are structural components that can be used for floor or roof support, typically supporting deck pieces like double tees, Hollowcore and solid slabs. They can be reinforced with either prestressing strands or conventional reinforcing bars and used along with other prefabricated components to form a total precast building envelope solution. The result is a clean, finished appearance.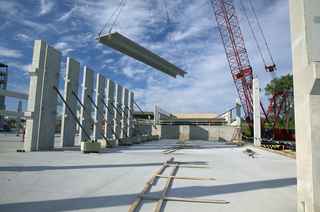 Double Tees
Named for its shape, double tees are an excellent choice in roof applications where a long, clear span is required, such as parking decks, swimming pools, gymnasiums, bridges, and industrial buildings. They can be used in many applications — like floors and roofs — to support heavy loadings. Wells manufacturing capabilities allow for industry leading double tee expanses.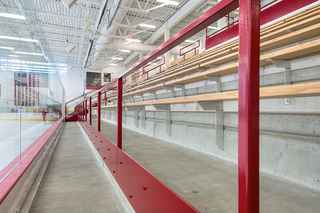 Stairs & Stadium Risers
Prefabricated concrete stairs are found in a variety of building types including offices, multi-family housing units, sports arenas and parking ramps and are renowned for the strength and ability to reduce noise and vibration. Stadia, or stadium risers are the building blocks for stadia seating in stadiums, arenas and theaters / auditoriums and are compatible with any type of building product.

Spandrels
Spandrels are horizontal precast pieces that may be structural with pockets, corbels or ledges to support double tees and Hollowcore plank, or non-structural elements in total precast buildings and parking garages.
Benefits of Wells prefabricated structural systems.
Support quick erection and installation in any weather condition, for a faster building enclosure and lower construction and overhead costs.
Harness long-term benefits of low maintenance, fire resistance and enhanced durability.
Energy efficient, with the interior wythe of concrete mass, absorbs and retains heat and cold, resulting in lower heating and cooling costs.
Our PCI-Certified manufacturing facilities ensure a quality product manufactured under strict regulations. Manufactured in an indoor, controlled environment allows for year-round production and low water to cement ratios, creating a denser concrete material to prevent water penetration, resulting in a better-quality product.