Stewards of Earth's Resources
With a desire to limit our environmental impact, Wells is actively working on energy conservation, carbon reduction, sustainable building design and waste management methods across all our facilities. In addition to these we support local efforts like Adopt-a-Highway and Habitat for Humanity to support a sustainable future for our planet.
Wells Carbon Reduction Initiatives
Our production facilities create sustainable prefabrication using fly ash, which reduces the amount of embodied carbon in our concrete mix by up to 10%.
We work with carbon capture companies that contain and recycle carbon dioxide gas generated by fossil fuel use. This reclaimed gas is mineralized into the concrete mix during production, permanently removing this carbon dioxide from the atmosphere.
Wells recently retired three outdated production facilities, replacing them with new sustainable precast manufacturing facilities that are more energy efficient and reduce raw material waste.
Our new cladding system, Infinite Facade, uses approximately 65% less concrete than typical precast spandrel construction in multi-story buildings. These lighter weight panels also help reduce the size of the structure needed to support the exterior enclosure, further reducing the overall embodied carbon impact.
Watch for Wells CEU training opportunities related to sustainable design and manufacturing.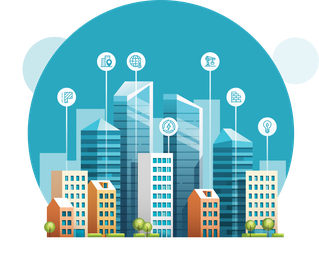 Wells believes in total transparency in our design and manufacturing process. Utilizing Sustainable Minds' Transparency Catalog, we are sharing environmental product declarations (EPDs) for our entire product line, sharing the embodied carbon in our building materials. Being transparent helps our partners feel confident they're building for a greener and healthier world when they use our building solutions.
We continue to look for new ways to make this a priority in our manufacturing processes and have dedicated research and development personnel tasked with further reducing the embodied carbon impact on our environment. This group is actively exploring material enhancements, sustainable building improvements and the pursuit of new technologies to influence how Wells building solutions perform.