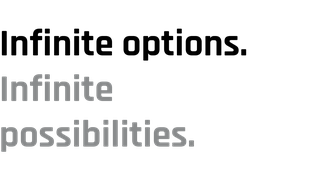 What is Infinite Facade?
Today's high-performance facades require balancing many factors from aesthetics to technical detailing to demands of the client and local building regulations. All while addressing the intended building solution long-term impact on the environment. A single-source building solution can simplify the choices you need to make — and reduce your risk along the way. Infi­nite Facade™ is a high-performing prefabricated building envelope that offers design-build teams greater aesthetic flexibility — while successfully meeting any budget or project timeline.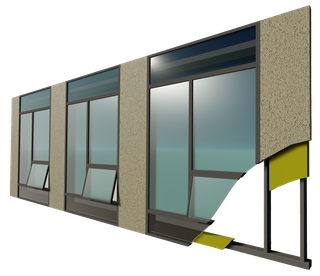 40%
Less cement than traditional concrete systems.
100+
Available finishes, including textures, colors, glazing and metal panel.
1
Point of contact through design, occupancy and warranty.
30%
Accelerated construction schedule.
Infinite Facade energy savings.
Want to know how much Infinite Facade could help you save on energy costs? Use our early design energy analysis tool to get an immediate estimate before you build.
Free, online tool calculates potential EUI reduction, annual energy savings percentage and cost based on your project details — including geography*
Toggle between different Infinite Facade options and typical wall types to compare costs
Calculate for projects up to 1.5M square feet
*Choose closest metro area where Infinite Facade is available
Infinitely responsible.
The basis of Infinite Facade™ design is sustainable resiliency; our solution was developed to help designers meet LEED accreditation goals by:
Harnessing heating energy, saving up to 30%, compared to typical construction assemblies.
Reducing global warming potential (GWP) by over 60%, compared to traditional curtain wall systems.
Using a thinner panel, minimizing cement mix by 35% while supplementing with cementous materials – to reduce overall GWP by 20%.
Infinite Facade design options.
With an emphasis on providing options and aesthetic flexibility, Infinite Facade™ can be manufactured in a variety of colors through mix and finish techniques like acid etch or stain, and textures like stone, terracotta or tile, as well as integrating exterior veneer options - such as brick and metal panel. Continuing to stretch the design possibilities the use of form liners allows for an endless number of patterns and reveals in the design.

Types of facade materials and design: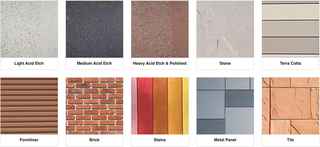 Infinite Facade solutions.
In contrast with traditional prefabricated concrete solutions, Infinite Facade™ allows for floor height flexibility and a much larger window-to-wall ratio, providing multiple glazing options. Our configurations are uniquely designed to achieve your project's unique window and daylighting needs in a way that's convenient and cost effective. Working with our team in a design assist capacity during the preconstruction process optimizes structural grid flexibility and efficiencies while providing insight into early structure loading capabilities.

Infinite Facade 75

Our most cost-effective system, the In­finite Facade 75 series utilizes standard sized window openings surrounded by your choice of ­finishes.

Infinite Facade 85
The In­finite Facade 85 series allows window openings to align with the top of the panel and minimizes the occurrence of horizontal joints. It increases the total window height, allowing for enhanced vision from the interior.

Infinite Facade 100
The Infi­nite Facade 100 series provides full height, continuous exterior glass, and can accommodate more translucent glass from the interior.
Available Webinar
Building Envelope Systems: Achieving High Design and Optimizing Performance on an Accelerated Construction Schedule [CE | Strong November 2022 Webinar]
Credits: 1 AIA HSW LU
Infinite Facade performance.
With extensive development and testing, the Infinite Facade™ building enclosure system is at the cutting-edge of energy performance and code compliance, all while providing attractive aesthetic solutions. The system has been extensively tested including air barrier, fire resistance performance, weather resistant barrier, acoustic, vapor barrier, structural and thermal properties to meet the most stringent code requirements related to ASTM, NFPA, UL, AAMA, WUFI, THERM Modeling and more.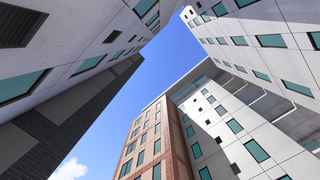 Infinite Facade delivery.
In addition to the design benefits provided by Infinite Facade™ one of our construction partners favorite elements of this building enclosure system is the simplified logistics and shipping. By providing standardized framing and connection hardware that easily integrates with adjacent systems, it can standardize supply chain and reduce headaches. By manufacturing this all-in-one lightweight building enclosure system in a controlled environment off-site, in advance of project construction, it expedites speed of construction, reducing months off the construction schedule, getting your buildings built faster.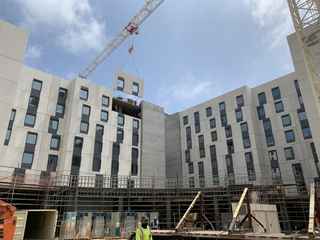 The benefits of Infinite Facade.
We believe in the inherent value of a single source building envelope solution. Our partners find Infinite Facade™ to be the preferred choice for the following reasons:
Higher Quality
By manufacturing off-site, we are able to install windows systems and insulation in a controlled environment with QC procedures in place to ensure the highest quality possible.
Economical Solution
The inherent design and standardization of the Infinite Facade™ options allows for reduced design and engineering costs in the front-end. The single source solution eliminates scope gaps, while also reducing the need for skilled on-site labor and ultimately provides a significant accelerated schedule – think months, not weeks.
Reduced Risk
Risk is a major element when designing and constructing any new building. Infinite Facade™ helps reduce risk by minimizing site disruptions, creating a safer site and reducing constructability issues.
Accelerated Schedule
Looking to expedite the construction process? The off-site manufacturing of the Infinite Facade™ all-in-one building envelope solution accelerates design schedules, reduces construction documents and automates the construction process resulting in expedited on-site installation and ultimately faster occupancy and ROI.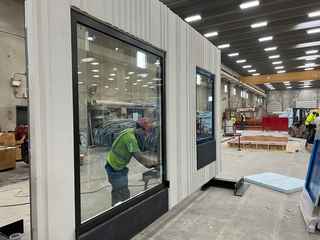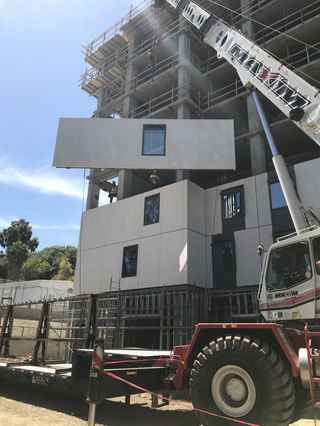 Infinite Facade project information.
If you are looking for standard detailing information or would like to get an estimate to transition your project to Infinite Facade, get in touch with one of our building solutions experts to explore the possibilities for your project.
Dan Stenzel - Facades Product Manager
Trish Haddon - Market Development Manager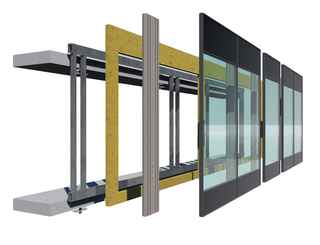 Facades Consortium Group
Facades Consortium Group LLC is a partnership between Wells and Clark Pacific to facilitate and accelerate the R&D efforts surrounding Infinite Facade, a single-source prefabricated building envelope system, simplifying facade design. Both companies are aligned in the vision to evolve the lightweight panel systems that help create a resilient, durable, and sustainable built environment. We are committed to designing, manufacturing, and installing a quality product no matter where the project is located. Infinite Facade is engineered to be flexible to meet regional building and design requirements.