Prefabricated building solutions present the ideal solution for fast construction, durability, aesthetic versatility, energy efficiency and superior seismic performance — not to mention are also economical to produce, erect and maintain. Focusing our development efforts throughout the central US, Wells partners with owners and design teams through every step of a project, from initial design through construction to completion.
Understanding your project and goals is the first step in helping you achieve them. Wells' collaborative approach to creation begins by listening to your vision, conceptualizing your design and applying our transformative building solutions to create something truly exceptional that inspires community pride.
Wells is committed to surpassing our partners' expectations at every stage of the building design process. As one of the nation's leading prefabricated building solutions providers, Wells collaborates with architects, engineers, developers and building owners, turning visions into reality, and transforming communities, one project at a time.
The overarching design goals to integrate the architecturally exposed structural system along the perimeter of the building in conjunction with architectural precast exterior wall spandrel panels created unique design, engineering and execution challenges for the Architect, Engineer of Record and Precast Concrete Producer to solve prior to construction. The partnership formed during early design phases between these project members was critical to the overall success of the interior and exterior aesthetic.
Our typical project lifecycle begins with sales and estimating supporting our clients through preconstruction and early-phase design, establishing the scope of the project. Once a contract is signed, our internal design and engineering team creates the final Revit drawing, and the project is scheduled for production.
Wells' prefabrication manufacturing process includes rigorous quality checks throughout, and materials are stored on-site until the project is ready. Once the prefabricated materials are at the job site, our erection crew installs the material and our Sealants and Restoration team performs final joint sealing and any additional services included in the project scope.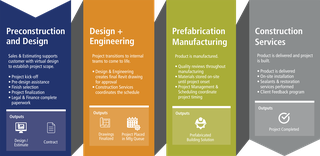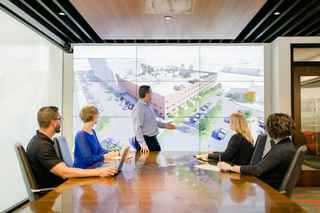 Value-added support during preconstruction.
Transforming the building process starts with a shift of mindset. The Wells design philosophy focuses on risk reduction, project performance, community and environmental impact. Our goal is to support your project vision, every step of the way.
Starting in the initial planning and conceptual design phases, our preconstruction efforts ultimately help our partners with project budgeting; determining project viability while saving vital time and financial resources.
From there our experts establish a scope of work, identifying opportunities for our building solutions to create a unique aesthetic while applying a value engineering mindset to save costs and ensure project efficiency.
As the design process continues, our team of engineers and drafters harness the power of BIM and virtual design tools to communicate with partners and translate ideas into tangible constructible solutions to meet your scheduling needs.
Comprehensive building solutions provider.
Architects, builders, and owners look to Wells to help see the potential in all types of projects — from new construction and building expansion, through restoration and maintenance. As a one-stop building solutions provide, our full suite of products includes:
At our core, we are creators — true collaborative partners who build success into every facet of our products and processes. We look forward to helping inspire pride in your community.