Make your work your legacy.
Challenge yourself to succeed in a company dedicated to helping individuals thrive. Whether a seasoned veteran or a recent graduate, Wells offers rewarding career opportunities to put your skills to use, advance your knowledge and create community landmarks that inspire pride among those closest to you.
Safe
We create and maintain a safe work environment for our people and partners; providing a sense of security in all we do.
Driven
We know our strengths and work tirelessly to exceed industry expectations, creating modern landmarks we are proud of.
Collaborative
We form honest, trustworthy relationships that help our partners thrive and offer our communities visionary solutions.
Inventive
We find new ways to solve problems and deliver the best solutions.

Wells is an Equal Opportunity/Affirmative Action employer. All qualified applicants will receive consideration for employment without regard to race, color, religion, sex, sexual orientation, national origin, gender identity, disability, or protected Veteran status.
Current openings
Begin your career with Wells by exploring our available career opportunities at a location near you.
IA, MN, MO, ND, SD
IL, IN, WI
CO, KS, MT, NE, NM, OK, TX, WY

Engineering Summer Internship
Bolster your classroom knowledge at a one-of-a-kind engineering summer internship. You'll have the opportunity to learn about the Precast and Construction world from the ground up, with guidance from tenured industry experts.
Engineering Development Program
Put your engineering degree to work through the Wells Engineer Development Program (EDP). Working with Wells, you'll gain hands-on experience and become an essential part of our design-build process, learning to apply your knowledge and helping individuals thrive where they live and work.
This four-year program is designed for driven civil and structural engineering graduates looking to gain the practical, written and communication skills needed to excel in your career. You'll help plan projects, supervise installations, oversee quality control processes, perform physical tests and troubleshoot problems on the job as they arise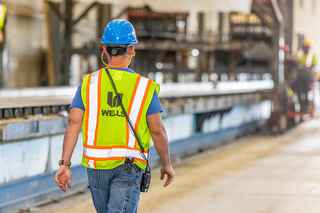 Employee benefits
Wells values our employees and is committed to providing a competitive and comprehensive benefits package. We offer paid holidays, health, dental and vision insurance, as well as flex spending for medical and daycare, a health savings account, and 401(k) plan with profit sharing. We'll also pay your premium for short- and long-term disability, and life insurance.*
*Please note that the benefits listed here are for non-union employees. Benefits for union employees are covered under separate collective bargaining agreements which can be obtained through their union business agent or their HR representative.