Double Tee Roofs And Floors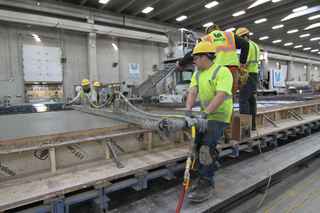 In the fast-track construction world we live in today, designers, contractors and owners are looking more and more at precast concrete to shorten the time to completion. When they think of precast concrete, wall panels are probably their first thought, but do you know Wells also offers double tees for flooring and roof applications? Most people think double tees are only used for the elevated surfaces of parking structures – but they can also be used for swimming pools, gymnasiums, water/wastewater treatment plants, food processing plants, warehouses, commercial and industrial buildings.
Double tees offer plenty of flexibility in design and construction and are an ideal choice for structures requiring long, uninterrupted spans – with shallower depths than traditional flooring and roof applications. When combining double tees with precast wall panels, it limits the need to incorporate multiple materials and trades, thus reducing the overall construction schedule, as well as adding efficiency to the overall building's lateral support system. The double tees are erected simultaneously with the wall panels so at the end of the precast installation – the building is ready for enclosure and the temporary lateral bracing can be removed.



Double tees are plant-fabricated, which provides excellent quality control, and are manufactured to the highest standards. Ceilings require no additional finishes as a superior smooth steel form finish is provided. They require minimal maintenance and are also resistant to weather extremes. When necessary double tees can be dapped to reduce depth at the end bearing.
Wells offers double tees in standard widths of 8, 10 and 12 feet with depths ranging from 20 inches to 42 inches and spans up to 100 feet. Wells would welcome the opportunity to help with precast budgeting and an efficient panel configuration/layout as your next precast project progresses. Please consult with your local sales representative at Wells for this service plus determining the correct width/ depth of double tee – based on your project-specific requirements.