Tackling Sustainability With Infinite Facade
Today's structures must be built to be sustainable, reduce operational and maintenance costs, last longer, and offer an iconic façade against stringent aesthetic requirements. Design teams are constantly looking for new finish offerings and meticulous detailing. Contractors are demanding more and more offsite prefabricated assemblies that save time and reduce costs. Infinite Facade™ offers a single source solution with a complete building envelope system.
Utilizing a thin exterior skin, Infinite Facade reduces the amount of concrete needed by over 70%. In addition to the reduction of concrete, simulated finishes such as stone and metal panel eliminate the need for additional materials in its entirety. By eliminating the actual materials themselves, it also reduces time and labor typically required on site. Other finishes such as cast-in thin-brick or cast-in terracotta also contribute to sustainability. For example, a normal masonry brick veneer is 3 5/8" thick where a thin-brick veneer is only ½" thick. That's over 85% reduction of raw material consumption.   
Factory-installed insulation is conducted in controlled conditions, which allows for a higher quality of installation and eliminates waste, site disturbance and actual time needed on site. The insulation selected specifically for Infinite Facade is energy code compliant and has one of the highest available R-Value ratings per inch which creates for a very efficient building envelope and reduces the amount of energy consumption over the life of the building. Continuous insulation, edge-to-edge and top-to-bottom, is provided to eliminate any thermal bridging or cold spots. In addition to the thermal performance of Infinite Facade's insulation, our insulation also meets the 2020 blowing agent restriction guidelines, has ultra-low global warming potential and contains 25% recycled and renewable content.
The structural frame components of Infinite Facade are composed of structural HSS steel members in lieu of structural concrete. Utilizing a steel frame, Infinite Facade is able to achieve higher window to wall ratios than ever before. Our structural frame also acts as a drywall ready substrate, thus eliminating the need for additional furring walls while reducing material, time and labor required on site.
Windows are preinstalled into the Infinite Facade panels in controlled conditions which allows for a higher quality of installation, eliminates waste, site disturbance such as storage or staging areas, and of course the actual time and labor that is typically required on a jobsite. Windows are preinstalled at ground level reducing the need for lifts, scaffolding or hosting, increasing safety for the installers. Preinstalled windows allow for faster enclosure schedules as the Infinite Facade panel openings are shipped to the site weather-tight, allowing for other trades to start sooner and eliminating the need for temporary window infills which reduces waste, time, and additional costs.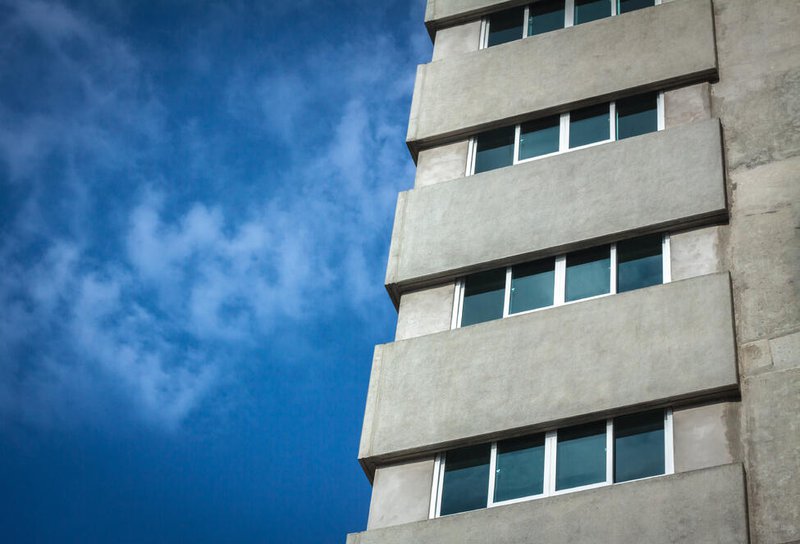 Since Infinite Facade is a lightweight system, the loads imposed onto the structure are greatly reduce. In fact, Infinite Facade weighs 68% less when compared to other systems. This reduces the amount material and reinforcement required in the support structure's floors, beams, columns and foundations. Lightweight allows us to manufacturer larger panels which in turn reduces the manufacturing period, number of loads to the jobsite, and time spent on site erecting as there is more square-footage per panel vs any other system. Infinite Facade requires no onsite storage or stagging as we will ship as needed for the product scheduled to be installed that day.
Through the use of prefabrication, Infinite Facade greatly contributes to sustainable construction. There is a huge reduction in site disturbance and material waste, along with delivering a high quality product faster than ever before.