Wells Makes Important Safety Strides in 2023

Safety is Wells' number one core value (along with inventive, driven, collaborative). So, what does this mean to our employees and partners? It means going home safe every day, looking out for fellow coworkers and reminding them to work safely, keeping other trades or contractors safe at a job site, inspecting equipment before using, and wearing your PPE (personal protective equipment), to start. While all these examples represent safety, most importantly, safety means communicating and working together to ensure that everyone is doing his/her part to remain safe from hazards.
At Wells, Safety encompasses everything we do, from manufactuing to transportation to erection to sealants. Below highlights the efforts put forth in all divisions and geographic regions this past year and how they have played an instrumental role in our current positive trend and safety record.
A focus on training and communication.
To foster a safe working atmosphere it is important that employee are educated on the best practices, standards and expectations within their team. At Wells we believe that every employee is a safety leader, to instill this message, we have dedicated safety leadership for each of our geographic regions. These team members set monthly goals for toolbox talks, behavior-based observations, inspections and near-miss reporting within their region. Their mission is to spread the message and practices of safe work throughout Wells.
Increased emphasis on near-miss reporting.
We set out with the theory, that if we placed emphasis on increased communication related to safety, we would find a correlation between near-miss reporting and injury/illness prevention. Taking this approach, Wells 2023 safety record has drastically improved over 2022 results. With a focus on bringing attention to safe working practices, we placed an emphasis on improving our near-miss reporting. At the end of October 2023, Wells Safety reported an increase of 147% near-miss reports over this same period in 2022 (chart 1). This effort, resulted in a 52% injury/illness improvement, which is 33 less injuries/illnesses than this period last year (chart 2). We adamantly believe that this was a result of concentrated focus on safety and near-miss communications.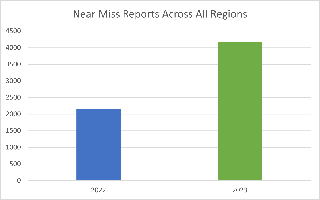 Data above represents Jan - October data from 2022 and 2023.
Showing results — our improved safety record.
How do all these efforts affect injury and illness reporting? We've seen significant safety success stories in many of our areas.
Wells Midwest Field Services has achieved 475 days (about 1 and a half years) without a recordable injury; the Sealants team incurred an 400% injury/illness improvement, reporting only one (1) recordable injury in 2023 as compared to five (5) reported through this time last year.
Our Great Lakes regions reported a significant reduction of reporting injuries with 64% less reported, and 83% reduction in severity (lost time injuries).
Our Albany, MN manufacturing facility reported an 83% drop in recordable injuries while Rosemount, MN reported a 75% decrease, where we also achieved over one thousand days (almost 3 years) without a lost time incident.
Our Wells, MN plant reported a 42% decrease. Additionally, there have been no lost time cases incurred in 2023 as compared to one (1) last year at this time.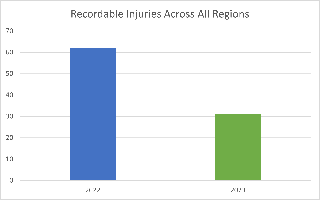 Data above represents Jan - October data from 2022 and 2023.
2023 could be Wells' best safety year ever, if we maintain our focus and efforts.
Capital improvements to improve worker safety.
Placing a financial investment to our safety efforts, Wells strategically invested in capital improvements to enhance worker safety. Elevating working conditions and prioritizing the well-being of employees not only has ethical implications but also contributes to the overall success and sustainability of the business. A safe and secure working environment fosters employee morale, productivity, and satisfaction, leading to a more engaged workforce. Some safety-focused capital improvements in 2023 include:
New robotic welders for improved ergonomics and production capabilities (Wells, MN & Albany, MN)
Additional safety stairs for safer access while mounting and dismounting beds and trailers (Wells, MN)
New flat form installed for accessibility when pouring wall panels (Rosemount, MN)
Utilizing a burke cart to keep material off the floor to reduce trip, slip and fall hazards (Rosemount, MN)
Dump hopper for debris on the floor, which helps facilitate using a forklift to dump debris into a dumpster rather than hand lifting barrels (Rosemount, MN)
CNC machines to help streamline material making as well as minimize handling and table saw cutting of wood and styrofoam, reducing risk to employees (Albany, MN & Brighton, CO)
Installing a moveable shed for window installation with pads dug into the ground to support employees when installing windows (Albany, MN)
New welding booths and band saws for improved efficiency and worker safety (Valders, WI & Crystal Lake, IL)
Safety is our focus.
We know that safety in the workplace and construction site is of utmost importance as it directly impacts the well-being and productivity of employees and our partners. When we can provide a safe work environment, it not only protects individuals from potential harm or accidents but also contributes to a positive and conducive atmosphere that fosters focus and efficiency. We believe that when we prioritize safety at work, it is a multifaceted investment that not only safeguards individuals but also positively influences overall operational efficiency and organizational success.