The construction industry is witnessing a transformative shift with the introduction of innovative techniques and materials. One such innovation that's gaining momentum is the concept of integrated scope building enclosures which are revolutionizing the way buildings are designed and constructed.
One of the leading solutions in this marketspace is Infinite Facade™ – it blends architectural capabilities of a thin, lightweight precast exterior with a steel frame, insulation and pre-installed glazing, arriving on-site as a complete unit, resulting in an immediate enclosure on the building, significantly expediting project schedules. This off-site approach saves valuable time and ensures that every panel is constructed with precision, reducing the margin for error on the construction site.
With Infinite Facade, a complete mockup can be created pre-production, allowing stakeholders to visualize the final product before manufacturing begins. This feature is invaluable as it provides an opportunity to make any necessary adjustments or refinements to the design, ensuring the result aligns with the desired aesthetic and functional goals.
Infinite Facade offers the unique advantage of multiple finishes on a single panel, allowing architects to explore a wide range of design possibilities.
With Infinite Facade, you are in control of your design. The ability to experiment with colors and textures before manufacturing offers architects and builders endless possibilities to create unique and eye-catching facades that hit the mark.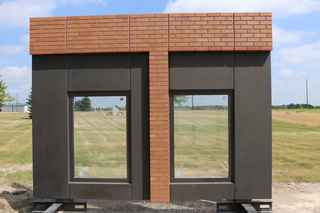 The incorporation of dual finishes like brick, Nawkaw, and window elements within a single panel allows for a truly customized look. For instance, in the above example, the design architect used a Nawkaw stain to emulate a metallic panel and create a stunning contrast that enhances the facade's visual appeal.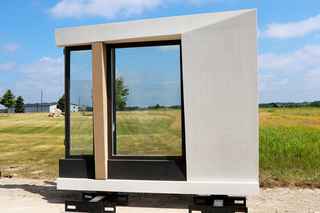 The architect designed this panel to show depth through a reveal, allowing two color tones within the same panel. This opens up a world of design possibilities, enabling architects to play with light, shadow, and contrast. Infinite Facade can be the canvas for creative expression, offering a broad spectrum of aesthetics that can suit any architectural style.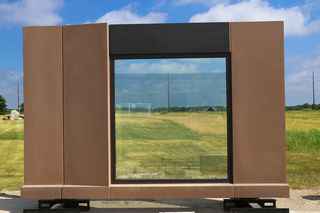 The panel shown above was designed to create a sense of dimension using 3D forms — multiple finish techniques on one panel all without incurring the additional costs typically associated with complex, multiple finishes. With Infinite Facade you can achieve depth and character at an economic advantage to other building systems.
Want to learn more about how Wells can help you push the boundaries of architectural design and construction? Contact us today.