This $8 million, 39,000-square foot facility includes two full-size courts flanked by auxiliary baskets to make the most of every minute and square foot dedicated to practice. Off court, the structure features state-of-the-art locker rooms, video suites, team rooms, and dedicated training facilities to foster each student-athlete's physical and mental development.
Wells provided insulated architect load bearing wall panels with both an exposed acid etch buff colored finish as well as a blend of Endicott utility sized thin brick for this project. The panels were both load bearing for the roof structure as well as retaining differing levels of soil pressure all around the building.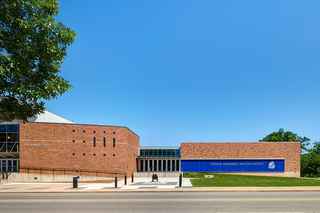 In addition to providing the Bulldogs with one of the top facilities in the country, the structure helps the entire University alleviate scheduling conflicts and provide more available recreational space for the general student population. The practice facility is the latest addition to an impressive list of infrastructure additions and improvements by Drake University as part of the distinctly Drake comprehensive campaign.