Greeley West High is a new high school in Greeley, CO. A significant endeavor, the outdated and outgrown facility was replaced to better serve the educational needs of its students. The project encompassed a total of 270,000 sq ft of new construction, incorporating state-of-the-art learning spaces, amenities and improved safety measures.
This comprehensive redevelopment included the construction of modern classrooms, a central hub, performance theater, gymnasiums, new Career and Technical Education (CTE) program spaces and upgraded safety features. The existing building, as well as temporary modular classrooms, were demolished to make way for these improvements. Additionally, the project included the reorganization of the site, introducing new fields, site amenities and expanded parking facilities.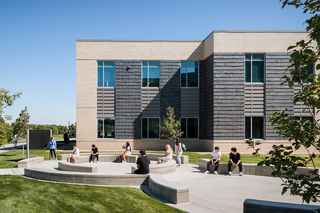 The core and shell was constructed using solid prefabricated walls, some towering up to 55 feet in height. This choice of construction material was driven by its cost efficiency, durability, and suitability for accommodating the building's arc-shaped design. The exterior of the building was adorned with hand-laid brick, while the interior prominently features the exposed structural prefabricated walls, showcasing the school's commitment to technical education programs.
The primary benefit of using prefabrication was the accelerated construction timeline. Creative phasing allowed for other trades to immediately follow-up after the prefabricated erection, leading to months of time savings in the construction process. Additionally, the prefabricated walls provide essential structural support for distinctive architectural elements, such as an elevated cantilevered running track within the main gym. The track spans two stories and requires robust structural walls to ensure its stability.
The new Greeley West High School showcases the successful use of prefabrication as a cost-efficient, durable, and structurally sound solution for a new educational and athletic facility. The project's design-build approach, focus on CTE education, and integration of unique architectural features all contributed to its significance within the Greeley community.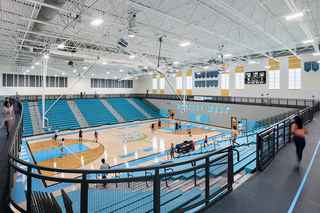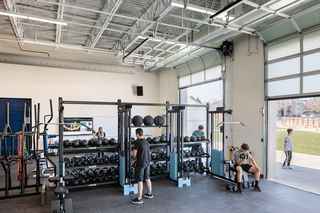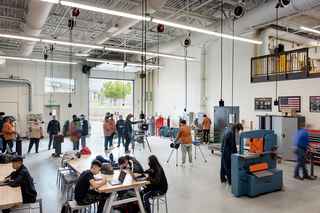 Greeley West High School aims to educate, empower, and inspire students for their future as a participating citizen of our global society.