Safer roads to create safer commutes.
With the goal to reduce traffic congestion and enhance overall safety to the many of those who use I-94 and Rawson Avenue Bridge as a daily commute, it was paramount that a reconstruction took place - on time. Completely rebuilding and redeveloping a bridge spanning a highly trafficked interstate takes a great amount of ingenuity, planning and preparation.
During the reconstruction process for the Rawson Avenue bridge, which spans I-94 just northwest of Oak Creek, WI, the engineers and construction crews raced against the clock to build and install two new sections as quickly, carefully and professionally as possible.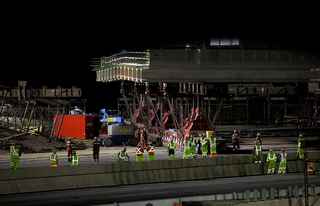 Innovative methods to stand the test of time.
Both bridge sections were assembled on the side of the road near the construction site using Spancrete Brand Precast Products to speed up the fabrication process while ensuring strength and enduring stability.
Construction crews then used a Self-Propelled Modular Transporter (SPMT) to move the two bridge deck sections into position. This 180-wheel piece of machinery carried the massive twin 136-foot-by-96-foot deck spans, each of which weighed around 3 million pounds, down the highway slowly and carefully to ensure safe transport and precise placement. This project was the first bridge project in Wisconsin to utilize the SPMT method.
A race against time.
The highly trafficked interstate was shut down for only 12 hours overnight for the movement and installation of the new bridge
The use of this rapid bridge-building model reduced the construction process from 6 months to just over 30 days. Impacting the community, with the ability to vastly decrease construction times, taxpayers monies were saved notably.