Ten miles northwest of Minneapolis sits Twin Cities Orthopedics (TCO) Brooklyn Park – a two-story 37,000 sq ft world-class orthopedic care and rehab center catering to patients with acute injuries in the Twin Cities and surrounding areas. This location features an orthopedic clinic, physical therapy, hand therapy and advanced x-ray and MRI imaging.
Wells has been a long-time partner with TCO and has constructed many of their locations across the region. The Brooklyn Park clinic highlights the intricate detailing and high level of quality that prefabricated concrete can offer. Most of the building utilizes blonde-colored formliner at the base and red-tinted flat brick above, with a small cornice projecting out from the design, creating a sense of depth to the structure. The front of the building features a large buff-colored etched architectural precast panel and another smaller panel that is sheathed in a thin metal to contrast the backdrop. The panels provide lateral support for the building, avoiding damage to the structure in the event of strong winds.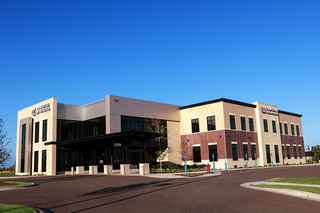 Supporting the amount of detail designed into the exterior walls, prefabricated panels significantly expedited the building process. In less than two weeks, a fraction of the time over traditional building methods, the manufactured wall panels were erected and connected to the building. The accelerated construction allows TCO to serve patient faster, providing important services to their clients in a beautiful setting.