Benefits of Partnering with Wells for Design-Build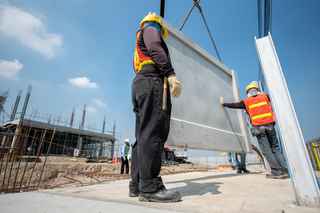 Whatever you call it – Teaming or Design Assist, the advantages of collaborating with and involving Wells early increases your project's chances of success.
Quick to get involved, Wells is accountable to the Owner / Developer, Architect, Engineer and General Contractor.  Wells assists everyone, including ourselves, in managing risk while we innovate with you.
Architect and Engineer
Developing and supporting the design – precast concrete is what we do. Wells will assist you in establishing design parameters, best practices and member sizes. Capitalizing early on Wells' strengths will minimize redundancy and rework.
Wells will participate in charrettes and Design Team meetings. As the design progresses, we'll advise and help coordinate as we prepare Delegated Design Documents that have been fully vetted to avoid interference while assisting with the development of the project specifications.
Early definition of structural components and BIM Modeling – in many cases Wells may lead the Revit modeling effort to reduce Design Team rework.
Architectural design is our passion . . . if you can think it, we can build it! With hundreds of colors, patterns and form liners available, your project can be as unique as your Owner's vision.



General Contractor
Wells off-site, plant fabrication is one of the most efficient, cost effective building systems available today.
Real-time estimating and budgeting – early procurement can lock-in pricing during volatile material markets. By collaborating with Wells, your commitment to us can reserve Engineering and Production slots that best fit your project's schedule.
Wells is all about communication.  When we're involved early, we help Identify constructability issues before construction begins – guaranteeing pricing accuracy which reduces RFI's and Change Orders.
Wells will either assist or lead the BIM Modeling effort to help manage early Trade Coordination and Clash Detection.
With Wells, there is an accelerated shop drawing submittal review process that helps compress the design AND construction schedules.
Our Field Operations and Planning Teams are motivated to help develop your project's construction phasing, erection means and methods and the safest strategy moving forward. Accurate scheduling, smart site logistics, with Wells' robust sequencing plans that are ideal for tight site conditions, supports precast concrete's Just-In-Time Delivery.
Owner and Developer
Increased SPEED TO MARKET – a hallmark of a Wells precast concrete project! By managing Design Team redundancy, accelerated engineering and drafting efforts and our state-of-the-art production capabilities, projects can see months cut from schedules.
Cost surety and confidence in pricing – along with the General Contractor, when changes occur, Wells promptly manages our precast concrete budgets which result in less Change Orders and ultimately less project delays.
Early collaboration and teaming create a synergy – a trust – within the Design Team which leads to a reduction in disputes and conflict.
Shorter construction duration reduces General Conditions.
Wells' early involvement will help us understand the Owner's vision, design intent, project factors and influences. Because of this, Design Assist is one of the safest project delivery methods for Owners.
Wells' inspiration comes from delivering outstanding projects to clients just like you!
When Wells is an active, integral member of the Design Team, we "own the design" and help overcome planning and engineering inefficiencies while delivering successful, timely and economical projects.
As one of the construction industry's most trusted advisors, Wells has collaborated on thousands of projects across the United States and Canada.  Our "Best Value" selection has been employed by Owners, Developers, Architects, Engineers and General Contractors for over 60 years.
To find out more, connect with us today.