Planning For Success In K-12 School Construction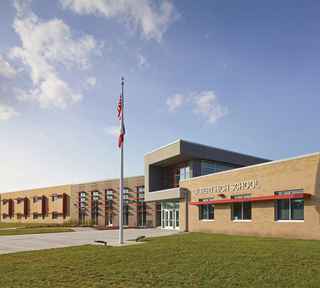 Both designers and school administrators are all too familiar with the challenge of constructing K-12 school buildings. Precast solutions can make it possible—and simple—to build cost-effective, visually appealing structures that keep everyone inside them safe from extreme weather—and still stand the test of time.
As a company dedicated to helping people thrive, Wells is well-versed in building K-12 facilities to meet the needs of builders, school boards and communities. If you're planning to build a new elementary, middle, or high school building, read on to learn more about how we approach new construction or expansion projects of educational facilities, effectively exceeding expectations to create a memorable destination for students, staff and communities.
Collaboration to learn, live, and grow.
Transform your community by planning safer and more durable environments to encourage learning, growth and success, anywhere you build. From design through construction and preventative maintenance, having a partner to help you identify the right solutions ultimately helps students thrive, well into the future.
Create safe shelter spaces to protect against severe weather. Solutions like precast wall panels ensure the strength and security required by both school administration and state codes, giving students, parents, staff and community members greater peace of mind.
Here to help you simplify the math.
Save money on capital construction and maintenance needs. We work collaboratively to identify cost-savings opportunities, eliminating many hidden costs commonly associated with construction budgets, and create advantages that continue throughout the building's lifecycle. Together, we can determine the right materials to maximize your budget and minimize future operational costs.


Build efficiency into every facet of your facility with a total precast system, integrating the building's structural frame with its architectural façade and thermal envelope. This promotes greater integrity and faster design and construction while giving you more design options.
Together, we'll inspire new ideas.
Create more comfortable and energy-efficient schools with insulated sandwich wall panels designed to provide continuous insulation. Electrical conduit and switch boxes can also be cast into the panels. Thermally efficient envelope solutions also provide strong acoustical control and prevent mold and mildew.


Gain full design freedom, thanks to virtually limitless architectural finish options. With sandblast, acid etch, water wash and polished, integrally cast thin brick, many colors and multiple reveal patterns, as well as casting in school mascot profiles, architectural façades are a simple and cost-effective way to create a classic institutional aesthetic, or something more cutting edge.   


Easily construct large assembly spaces with solutions like precast hollowcore and double tees that create longer spans yet require fewer columns. These are ideal for helping you construct large spaces like gymnasiums, theaters, cafeterias and natatoriums to accommodate occupancy needs.
Whether you're planning an expansion of a single school, a brand-new facility or even multiple campuses, the Wells team can help you plan and identify transformative building solutions for virtually any school project.
Explore Wells' portfolio of educational projects to learn how we can help you build the foundation for a smarter, stronger future.