Wells Announces Promotions that Support Strategic Growth Goals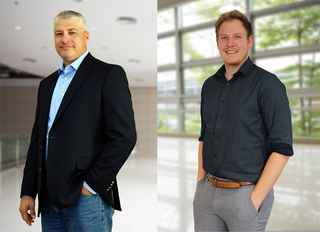 The investment in product development and technology integration helps Wells support the evolving needs of the built community
Albany, Minn. (Nov. 16, 2022) – Wells, one of the largest prefabricated building solutions providers in the United States, has promoted two veteran team members to positions that will enhance its product offerings: Doug McCarthy as Vice President of Product Development and Chris Dewanz as Director of Technology Integration.
Wells is strategically growing its resources by improving technology and investing in dedicated product development resources to meet the evolving needs of its building partners. New leadership across these disciplines enhances the company's ability to collaborate with clients in the built environment to address evolving needs.
Product Development Promotion
"Doug is an expert in all aspects of the building process and has been a vital part of Wells' operational success for many decades," said Kimberly Wacker, Senior Vice President and Chief Strategy Officer, Wells. "We're confident his leadership will keep Wells at the forefront of our industry and make new leaps into future building solutions for the AEC industry."
A vital member of the Wells team for over 30 years, McCarthy previously ran all operations for the company's Mountain States region. He joined the product development team in 2020. With his promotion to Vice President of Product Development, he will strategically grow this group to address the challenges faced by all stakeholders in the building process; actively driving the product development process and exploring how Wells' can inventively support the marketplace in new ways.
Newly Formed Technology Integration Team
"The decision to create a dedicated technology integration team came easy when we looked at the growing importance of technology in the building process." said Jon Feist, Vice President of Engineering and Drafting for Wells' Midwest region. "Chris and his group are helping Wells improve collaboration and modeling throughout the full design-build process. It's an important step toward enhancing our internal abilities to create greater success for our partners and projects."
Prior to his promotion, Dewanz started his career at Wells as a design engineer and later transitioned to BIM Manager. As Director of Technology Integration, he is overseeing Wells' newly established Technology Integration team, working closely with Wells' Construction and Engineering leads to ensure seamless operations and a consistent client experience across Wells' divisions and regions.