In the early 2000s, Wells (formerly Spancrete) worked on a substantial modification to University of Wisconsin's Camp Randall. The entire bowl area was redesigned and rebuilt, and Wells provided the structural prefabricated system with risers and rakers for the stands. The modifications included three levels of precast on the south end of the field in front of the UW Field House. Around the same time, Wells provided architectural formliner precast for concession and utility buildings next to the stadium, which included Badger football helmets cast into the concrete.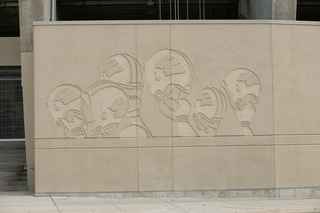 Most recently, the University wanted a complete overhaul of the stadium's south end zone seating, which was standard bleacher seating installed over the structural precast. The renovation consisted of replacement to the infrastructure, terrace and concourse area at the stadium. The new plan created synergies for the UW Field House and provided new choices for premium seating — including field level boxes, ledge seating, club seating and a party deck and upper terrace with a bar. Wells was involved early in the design process to ensure we could provide the risers in the configuration needed, in a color that could seamlessly blend in to the existing structural precast, which was achieved with our prefabricated capabilities.
Demolition included 6,500 bleacher seats and the top portion of the existing structural precast – the foundational precast remained strong from when it was first installed two decades ago. Wells provided new structural floors and risers for the seating section and installed a new stair tower with architectural precast on the exterior. The floors utilize Hollowcore and wet cast slabs. The risers not only provide seating structure but also support additional structures built on top of the prefabricated platforms for more places to view the field.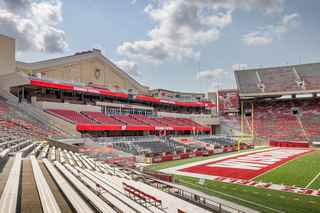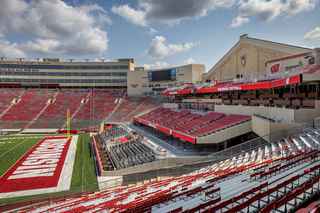 The project schedule was beyond critical, as the project needed to be complete and ready for the season to start. As soon as the football season was over, the south half of the field was ripped out; the north half of the field was still being used by the team's kickers to practice for the upcoming Bowl game. Working closely with JP Cullen, the Wells team immediately began installation on the stadia risers for the new seating once the demolition was complete.
Prefabricated concrete components were chosen on this project due to the durability it provides. Stadiums are constantly subject to movement and shaking from the thousands of spectators. Additionally, the stands need to be durable enough to withstand the harsh Wisconsin winters. The design of the renovation considered wind speeds, seismic movement and snow loads.
The modifications to the south end zone significantly improve the look of the stadium to a more modern atmosphere. With the new options for premium seating and bar sales, the renovation will increase revenue for the University and allow for a memorable viewing experience at Camp Randall.