The NFL's US Bank Stadium located in Minneapolis, MN, seats up to 70,000 fans, and stands as an austere architectural landmark. Home to the Minnesota Vikings, the stadium features a fixed-roof design with the largest span of transparent ETFE materials in the country. Inside there are seven levels connected by stairs, ramps, escalators and elevators, two concourses with 360-degree circulation and various views into the bowl, while also offering the closest seats to the field of any NFL stadium.
Wells produced and installed more than 5,000 prefabricated concrete pieces, equivalent to over 60 million pounds of concrete. Wells building solutions included stadia risers that made up the upper and lower bowl as well as Hollowcore, wall panels and stairs throughout the stadium. This significant project took over 1,500 truckloads to transport the product throughout the year-long installation.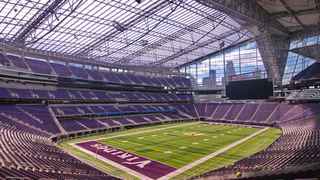 The sequence of work was important for this project. The upper bowl was erected first due to the crane location and ability to reach the last and highest piece of precast installation. Once the upper bowl was completed, the lower bowl was erected. Wells brought in a night shift crew during the lower bowl erection to expedite schedule and coordinate with steel erection during the day. Wells is proud to be part of this iconic project – creating a landmark attraction that enhances the Twin Cities area.