Balancing location, form and function.
Historically, Denver's office market has been split between the Central Business District downtown area and the Denver Technological Center to the southeast, but this new office building seized the opportunity to expand an existing, centrally-located site. Colorado Center Tower III joins Towers I and II, along with several other tenants in this highly efficient urban community.
Colorado Center Tower III is a podium-style office tower with ground level retail, a 7-level garage for 400 cars, and 203,000 sq ft of offices on eight floors, topped by a roof terrace. Part of a 13-acre, mixed-use Transit Oriented Development (TOD), the new building is designed for LEED Gold certification.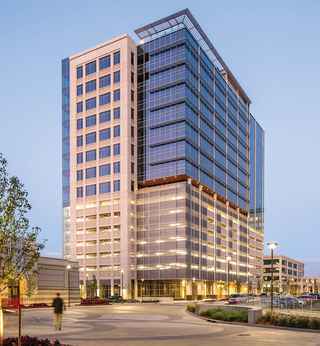 Finding an inventive solution.
During design, precast concrete construction was selected over structural steel due to its delivery time and cost advantages, and Wells was brought in as a prime consultant early on in the agreement. Precast, the architect says, "saved us six months and the precast structural system came in at a lower cost than the structural steel."
The total precast structure includes precast columns, double tees, inverted tees, beams and spandrels. Exterior walls are spandrels with curtainwall glass. Precast was even incorporated into the building architecture by leaving the underside of the double tees exposed in the offices. In addition, mullions for the glazing system were all designed to align with the double tees.
In the office levels, L-beams support the double tees. Adjacent to these are "wallumns." These are built-up precast wall column sections where exterior window wall panels are cast with large pilasters on the back to reduce the number of pieces. The pilasters helped carry the gravity load to the foundations.
Punched window wall panels were pre-glazed in Wells' plant prior to shipping and erection. Glazing had to be protected for weld slag during the erection process. So, a protection system was developed using aluminum frames and light weight fire blankets that were installed over the windows at the jobsite prior to setting.
In the garage levels, load-bearing precast spandrels support the double tees along two facades. Non-load-bearing spandrels cover the other sides. The double tees span 45 feet and are field-topped.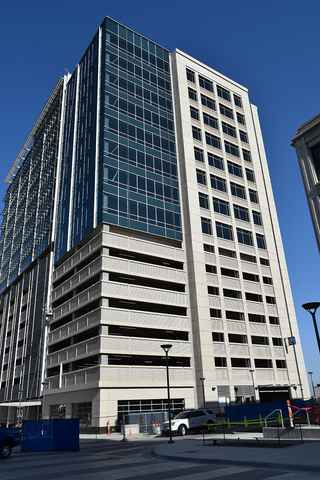 Brilliant details.
Project converted from steel to precast
Total precast structure: columns, double tees, inverted tees and spandrels
Exterior walls are spandrels with curtainwall glass
Use of precast cuts six months off project delivery time
Podium designed garage and office tower
Part of a 13-acre, mixed-use Transit Oriented Development (TOD)
Designed for LEED Gold certification
Locally produced, precast offers little waste, 12.2% fly ash in the mix
Underside of the double tee exposed in the office
Glazing mullions designed to align with the double tees