A state-of-the-art campus.
One of the largest construction and engineering companies in North America decided to build a new regional headquarters in Lone Tree, CO. The company aimed to create a robust corporate campus and opted for a solution that involved constructing two office buildings and a parking garage. The entire development had a price tag of $186 million and features several amenities such as a roof deck gathering space, a full-service café and coffee shop, and a fitness center.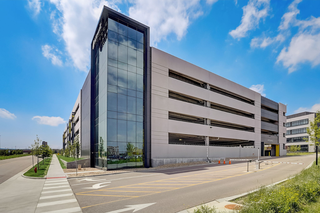 Wells partnered with the architect to bring the client's vision to life and was responsible for manufacturing and erecting architectural prefabricated panels for the two office buildings. Additionally, a total precast 970-stall parking garage was constructed with matching architectural panels matching the office buildings. The architectural panels were designed with a formliner finish, featuring neutral colors and straight lines, which resulted in a modern look for the campus.
By using prefabricated architectural solutions, Wells was able to provide a faster schedule for the project, allowing the client to have their corporate campus completed quickly. Moreover, the consistent theme created by the exterior solution showcased the attractiveness of Wells' architectural solutions throughout the campus. Overall, the collaboration between Wells and the project partners resulted in the successful construction of a new regional headquarters with impressive amenities and a modern aesthetic.