Spanning one full city block, Elm 551 at Parkside is a 112,400 sq ft multi-building affordable housing development nestled in the Chicago neighborhood of Old Town. The project's goal is to attract residents across a wide social and economic range using a variety of solutions such as less-crowded housing, greater income diversity and communal amenities. The overall campus offers a variety of housing options, allowing tenants to choose the type and size of unit necessary for their needs.
Wells supplied prefabricated building solutions for the 7-story 69-unit complex on the northwest corner of the site. The building scale is broken up through panels treated with formliner and bright colors to give complexity and texture to the building, with the ultimate design, harnessing repetition in to provide a cost-conscious final solution for the client. The exterior façade was stained with vivid colors scattered throughout the recessed balconies, displaying a positive and bright aesthetic.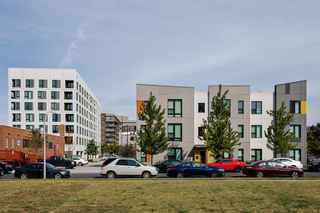 Factory formed precast panel construction significantly minimizes construction waste (in addition to overall 75%+ job waste diversion), and at the same time provides a safer construction site, is less dusty resulting in good air quality, is locally produced within 200 miles in Wisconsin, and due to the efficiency of installation is competitively priced.
When it comes to affordable multi-family housing developments, prefabricated building components have many benefits. In addition to ease of installation in an urban job site, the overall construction schedule was shortened, reducing project costs. Also, precast is a great sound barrier for adjacent units, is mold and fire resistant, and is easy to maintain. Overall, Elm 551 at Parkside is a fresh take on affordable housing that enhances Old Town in a variety of ways.