Incorporating culture and history for the community.
Chicago neighborhoods are rich in history, character and diversity. When building anything new in the city, there are challenges to overcome and opportunities to leave a lasting stamp on an ever-changing cityscape. When a new, eight-story, 84,000 square foot, 50-unit luxury residential development, 1323 Morse Ave., was conceived for the Rogers Park neighborhood, creating harmony between old and new was necessary.
What empowered 1323 Morse Ave. to be so unique was the developer's ability to communicate their desire to incorporate the culture and history of the community while providing a safe, long-lasting and visually appealing structure.
Precast concrete is sturdy, durable and can be manufactured in virtually any color and finish. When comparing total project life-cycle costs versus project build only cost, the decision was easy, low life cycle maintenance costs for the precast structure.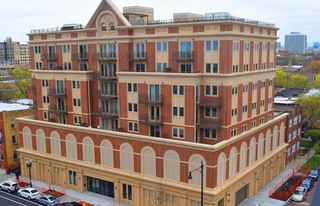 A large impact in a dense community.
Ensuring minimal disruption to the surrounding area was paramount . In such a tight knit community, being a good neighbor and partner is key to success. A total precast structure quickly became the better building solution.
Because this project took place in an urban location already congested with existing developments, material selection was the ultimate design challenge. Space was tight – both for the project itself and storage of materials. Using a total precast solution resulted in minimal site disturbance regarding both traffic conditions in the area, and construction noise. The just in time delivery solutions allowed for the entire structure to be enclosed in just 45 days. The cost benefit factor and rapid pace of erection was also at the forefront of why precast became the optimal decision for this development. In switching materials, construction time was reduced by approximately 33 percent, resulting in minimal disruption to the area and a faster occupancy timeline.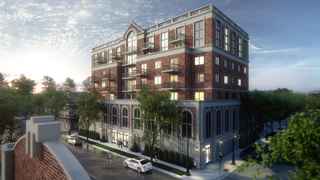 Harmonize history and modern day style.
But perhaps at the forefront of the decision to go with precast was its ability to create the needed harmony between old and new. The architectural exterior is finished with a thin brick, acid etch finish with a custom exterior mix consisting of white cement with an integral tint to best complement other historic buildings in the area. The exterior wall panels also contained an upscale cornice projection with thin brick, which added custom visual interest to the project design.
The intersection of culture and durable building solutions led to a striking and unique development to enhance this growing community. At the heart of this development, precast assisted in allowing functionality, efficiency and versatility to nourish a long-lasting residential complex for many years to come.
The precast system enabled the construction team to create the least disturbance in the neighborhood, which could be testified to by the neighbors."