Healthcare and insurance provider, HealthPartners, corporate headquarters is in Bloomington, MN. The headquarters is part of the Bloomington Central Station ("BCS"), a master-planned, mixed-use development in the city's South Loop District. Upon extending the lease, the provider made significant upgrades, including a new 8-level, 1,650-stall parking structure.
The conceptual design embraced efficiency and simplicity, while the design team of BWBR found opportunity for variation and relief in the detailing of the panels. Sandblast, acid etch, and honed finishes provided color and texture; simple framed relief in the casting beds provided reveals to create shadows. Arranging panels of different finishes within the facades lends a tight rigor and purposefulness to the design; this sort of sophisticated and controlled expression was the goal for the design: to mesh with the overall campus development and play the role of a significant but ultimately background building. Initially built as a standalone parking structure, the master plan anticipates future building developments on adjacent lots and does not want the structure to overshadow those future expansions.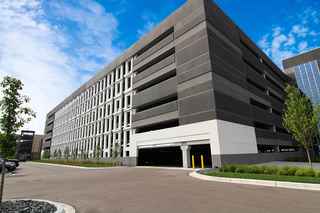 It is challenging to make a structure this size be pedestrian friendly. The solution was to maximize variation within the precast surfaces for visual interest and coordinate the piece sizes to create patterns in the façade. The team coordinated the structural design to provide end load bearing spandrels with 20-foot cantilevers to avoid additional pieces that would have formed joints interrupting the continuous horizontal pattern.
The design team seized upon the nature of precast and the fabrication process for details and design interest. They had a desire to move away from the standard horizontal look of a parking structure and instead incorporate a vertical look to match the surrounding office buildings. The solution was to take the interior load-bearing light walls and replicate it to the exterior. Utilizing the light walls on the exterior further accentuates the aesthetics and includes a unique corbel feature to accommodate future expansion. The parking ramp can be expanded southward for a total of 2,700 parking stalls through a future phase of construction.
The site is also under significant height restrictions from the nearby MSP airport. A construction sequence was worked out to utilize two erection cranes with luffer crane booms so that the construction and erection did not violate these while also meeting budget and schedule. In the end, the parking ramp support HealthPartners needs while showcasing a unique parking structure appearance for the bustling BCS development.