Full-service collaboration.
The ThriveOn parking garage in Milwaukee, WI, is a new 6-level, 316-stall structure built to support the renovation of an existing attached building, meeting the evolving needs of the surrounding community. Developed by a partnership between the Medical College of Wisconsin, Royal Capital Group and the Greater Milwaukee Foundation, this ambitious renovation project encompasses the conversion of a former department store into apartments, office spaces, community health programs, a food hall and more. With the removal of existing parking lots over the years, the need for additional parking spots became apparent, leading to the construction of the parking deck.
To make room for the deck, the building next door to the new development had to be demolished. Delays occurred after bad soil was found, and a soil correction was required before the foundations for the deck could be laid. However, the use of prefabrication in the construction of the parking deck resulted in a quickly built structure to counteract the delays. Additionally, the economic benefits of prefabrication made it an attractive choice for the developers over traditional cast-in-place methods.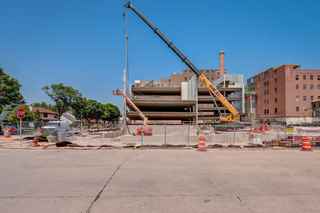 Wells was involved from project onset supporting engineering, manufacturing and erection of the parking structure. The utilization of precast concrete provided several quantifiable advantages to the project. The prefabricated nature of the components allowed for faster construction, enabling the project to progress swiftly. Additionally, the economic benefits of precast concrete made it an attractive choice, ensuring cost-effectiveness without compromising quality. The project's plan to hang screening on the exterior of the parking deck further enhances its architectural appeal, adding aesthetic value to the structure.
One of the primary challenges faced by the ThriveOn parking garage project was its location in the heart of the city, presenting a tight site with limited space. However, this situation proved advantageous for the utilization of prefabricated building solutions. The compact nature of the site allowed the Wells field construction team to position the crane within the footprint for most of the construction with a brief stint in the street at the end to minimize traffic disruptions.,
This project stands as a testament to innovative urban development and the collaboration between key stakeholders in bringing about positive change.