Quality affordable housing.
Dedicated as the Lucy Gonzalez Parson Apartments, this 7-story, 100-unit, 126,000 sq ft affordable housing complex is a transit-oriented development, conveniently located adjacent to the CTA bus stop and just blocks away from the Logan Square Blue Line. This multi-family residential complex brings not only a bright and unique aesthetic to the neighborhood, but also provides affordable, high quality housing to the Chicago community thanks to Bickerdike Redevelopment Corporation – a non-profit affordable housing developer based out of Chicago.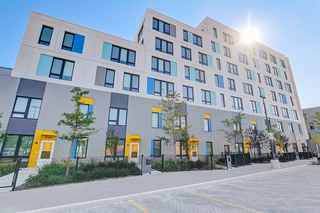 Respecting the setting, the design deliberately staggered the stories of the complex to blend the building into the historic Logan Square landscape and residences. Wanting to exemplify the creative energy of Logan Square, the apartments showcase unique architectural elements. The front and back of the building feature faceted precast panels with custom stained coloring that reflects Bickerdike branding – providing character and dimension to this new urban residential development. The lower exterior levels incorporate a darker stain and formliner concrete that successfully mimics shiplap siding to add visual dimension. At the street-facing corner entrance of the building, precast supports a cantilevered edge, allowing for unobstructed corner window views for the 4,500 sq ft of retail space.
Prefabricated concrete is an ideal building solution for affordable urban city housing development projects due to the lower cost, nearly nonexistent maintenance and extremely fast building erection to minimize disruptions within bustling neighborhoods. With the building erection taking only 45 days, it allowed the project to stay on schedule. Supporting a cost-effective build, the Hollowcore that makes up the ceilings of each level were left exposed and painted. The resulting project supports the community by providing residents with modern and desirable affordable housing options.