Thanks to its many efficiencies, prefabricated building solutions offer many advantages when developing projects to serve public and municipal needs. Such was the case of this unique Midwest-based K-12 school project. Part of a long-range facilities plan funded by a $63.3 million referendum passed in February 2020, several rural communities agreed to consolidate three separate schools into a single, centralized campus that could accommodate nearly 8,000 occupants, including teachers, staff and students spanning all grades K-12. The new two-story, 195,855 square foot facility was conceived to help balance classroom sizes and provide equal access to resources and support. Additionally, the new learning environment would create new opportunities to enhance students' interactive, collaborative and social learning experience. Ultimately, the new campus needed to accommodate the diverse needs of 13 class levels in a single facility.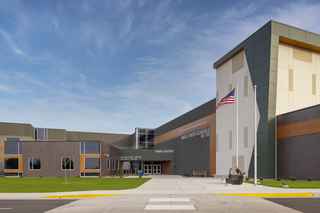 Even before the referendum passed, the district's design team consulted with Wells regarding design and budget to better understand what advantages a total prefabricated design could bring to this significant new K-12 development. Once the funding was approved, Wells formally submitted its project bid, which was subject to a thorough best value evaluation by the school board. After extensive review, Wells won the bid, even with some initial school board hesitation over choosing this modern building solution.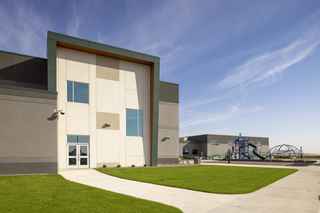 Despite its many advantages, few K-12 school buildings are built using total prefabricated systems. However, in the case of this project, ISG, the architect designed the campus with precast in mind from the start. The majority of the classrooms were designed to work with standard hollowcore plank sizing to keep spans low, and the design team sized spaces to work more efficiently using precast. Additionally, spandrel panels were included in the design to maximize natural daylight. By using many different building solutions across different applications — including columns, beams, stadia, insulated and solid architectural wall panels, structural walls, double tees and versatile architectural finishes — Wells was able to rise to the design team's challenge, pushing the boundaries of prefabrication to create an efficient, economical and durable structure.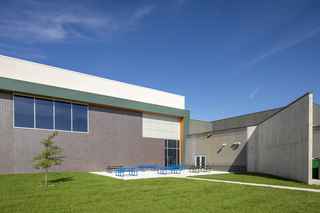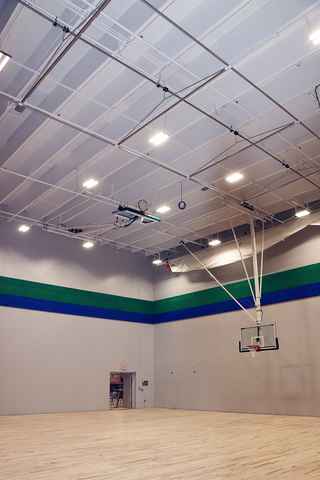 In addition to accommodating the unique design, Wells also had to abide by new state code requirements — that any publicly funded project must have a storm shelter. To address this need, Wells designed a 97- by 70-foot interior room strong enough to withstand an F5-level tornado, surrounded by rooms intended to collapse around it in the event of such damaging storms.
The storm room was just one of the new facility's unique features. First-floor gymnasiums — along with a second-floor wrestling room — created an open concourse effect, highlighting the new spacious interiors. A polish-finished cafeteria offered an easy-to-maintain space for students to gather. A large auditorium accommodating 500 seats leveraged precast stadia. The exterior leveraged the aesthetic versatility of different architectural finishes, using a variety of colors and textures to create more dimension and visual appeal. In three months, Wells was able to complete its portion of the project — a feat that would have taken more than twice as long had the district chosen traditional masonry.
As the new facility approaches its grand opening, it has driven an increased interest in public school enrollment — both for locals whose students had previously enrolled in other districts, as well as families moving to the area because of the desirable new facility. Because of the increased interest the design team has already reached out to Wells regarding possible expansions in the near future. Suffice it to say, the project is already making waves throughout the district and its surrounding community — and will likely continue its positive impact on students' lives for years to come.