Maple Street Lofts is a new mixed-use, six-story, 192-unit luxury rental community with a convenient ground-floor grocery store and apartment parking located in downtown Mount Prospect, IL, a northwest suburb of Chicago. Located across the street from the Mount Prospect Metra station – offering easy access to downtown Chicago – the transit-oriented development (TOD) is also just steps from downtown Mount Prospect's shops, services, restaurants and community events.
The building includes five levels of wood-framed apartments, built on top of a 3-level precast podium, and is part of a larger development that includes a public parking garage to the east that was built by Wells just prior to starting construction on Maple Street Lofts.
Designed by Chicago-based Studio 222 Architects, Maple Street Lofts offers studio, one- and two-bedroom floor plans ranging from 591 to 1,180 sq ft. Harnessing the benefits of precast, double tee framing was used throughout to maximize clear span and provide more open space. 44" deep stem double tees were used at the podium level to account for the design loads from the apartments above, and precast improved the podium framing installation time by 40% over traditional cast-in-place.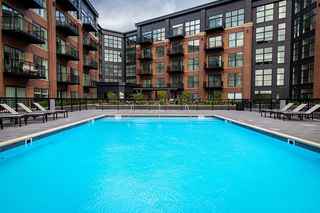 The building hosts a variety of indoor amenities on the second floor of the podium, including a precast-framed swimming pool and hot tub in addition to a business center with four glassed-in private offices for working from home, plus a fitness center, yoga studio, resident lounge and demonstration kitchen. Outdoor shared amenities include a 15,000 sq ft Sky Park complete with pool, hot tub, grilling stations, gaming area, seating alcoves, sun deck and bark park. Residents also have access to bike storage and a repair room, plus a package-receiving room with Luxer One technology.
With its amenity rich features, convenient location and modern design, Maple Street Lofts has become a residential destination in the Chicago marketplace.