Building brighter futures.
A strong, secure place to learn and grow is critical to any student's success. Perhaps just as important is an educational space that can engage and continuously inspire those students. Meadow View Elementary provides a learning environment to elevate students' educational experience for years to come, and keeping them safe while doing so.
Wells is held in high regard for the strength, security and durability of the educational facilities we build. But at Meadow View, our unique capabilities were critical in constructing an aesthetically pleasing campus to complement the up-and-coming area. Elementary school is a time where children learn more about who they are and what they want to be, and in having a safe space to flourish, it was vital this school allowed each student to do just that. Paramount to this project, Meadow View needed to yield an environment to encourage the students desire to learn, grow and succeed - and in turn, build their future to be as bright as it can be.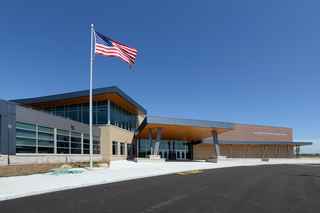 Construction schedule meets school schedule.
While the school year was rapidly approaching, our dedicated and knowledgeable team undertook the project in several different phases to ensure complete project efficiency throughout construction.
Precise scheduling and expedited manufacturing processes allowed the team to first erect over 13,000 square feet of wall paneling to serve as the school's exterior walls. Then, in just over a month, the team installed more than 43,000 feet of hollowcore plank for highly durable floors and ceilings. Crews also took special care to conceal any interior precast connections with veneer and insulation, ensuring they wouldn't be visible to building patrons.
Academics mixed with fun.
Creating a sound, 112,000-foot structure featuring large, open spaces, Wells helped establish a modern, open-concept feel within the elementary school. But while elementary students may not necessarily appreciate the reduced noise, improved energy efficiency and greater protection from fire and severe weather, they're bound to enjoy some of the building's more distinct features. After all, who never once dreamed of sliding down a large purple slide into their school's common area, or coloring with their classmates in a puddle of sunlight, thanks to expansive windows? At Meadow View, a solid foundation for creativity and growth has been established and our future generations can do what they do best - be kids.