A legacy built to last.
In 1842, a sawmill with an adjoining home was built on Lake Nagawicka; about 45 minutes west of Milwaukee. By today's standards, its nineteenth-century style — featuring natural stone and brick with rustic wooden beams — would be considered a charming addition to any neighborhood.
Unfortunately, time had taken its toll on many of the home's critical structural components. The Mill Street home's developer saw an opportunity to reclaim and revitalize its special character by putting Wells at the heart of the new, sustainable structure.
Using a wide variety of precast solutions helped preserve the integrity of this historic home for generations to come.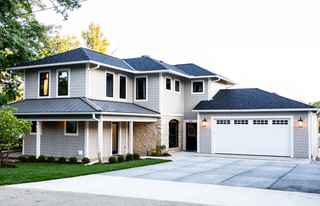 Customizing comfort.
Wells' precast products help the home obtain optimal energy efficiency. The first and second floors, as well as the garage, are built with hydronic piping in the precast floors to heat the home. Hydronic piping is a thin and flexible tubing that runs through precast panels and connects to a home's standard boiler. The concrete is heated, like a heating pad, and retains that heat, slowly releasing it over time, keeping the whole environment warm in the process. That delivers a staggering amount of energy efficiency, reducing heating consumption and cost.
The home's driveway and sidewalks also offer environmental benefits, as they are made from RePlenish pervious concrete, which creates additional drainage to help prevent flooding and direct water flow to restore water supplies. It can withstand up to 500 inches of rain an hour, allowing water to naturally flow into the earth. It also will withstand freeze and thawing.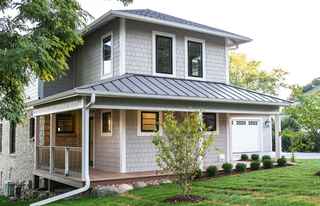 Built to last a lifetime.
The completed home combines stunning, rustic aesthetics with modern features, fits perfectly into its surroundings and delivers the sustainability homeowners seek in new construction. Mill Street is proof of the benefits and versatility of Wells' precast components for new home construction.
Mill Street, as it would come to be known, is a study in respecting heritage while building a legacy of sustainability, safety and savings.
A forever home starts here.
When that idea you have for a new home build starts becoming more real, when pen hits paper and you seek ways to make your idea a tangible reality … when you hit that moment, STOP. Stop and consider what you want the legacy of your home to be. Consider what kind of benefits you expect and remember the story of Mill Street.
The path forward becomes much easier when you realize the long-term benefits of precast in home building are extensive enough to make what feels like the simple, functional choice of building materials a vital one.
You need only look to the unique stone house on Lake Nagawicka in Wisconsin. Classic and rustic on the outside, modern, sustainable and energy efficient on the inside.