For the greater good.
The Higher Ground homeless shelter brings both structure and beauty to the Minneapolis skyline, providing the groundwork for a community that everyone can be proud of. The first of its kind in Minnesota, Higher Ground gives residents an opportunity to move out of homelessness by combining permanent housing and emergency shelter in one building. Focusing on upholding people's dignity and working with them to become as self-sufficient as possible, Higher Ground also provides them access to resources, including job skills training, mental health support services, and on-site direct health support.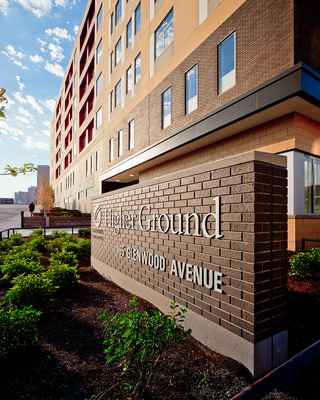 Memorable design features.
This project is a total-precast building, including components such as insulated wall panels, prestressed hollow-core planks, and precast stairs. The wall panels are load-bearing, but also provide an exterior acid-etched, colored architectural finish, with panels surrounding the vertical section of windows sporting a contrasting white finish.
Another vertical section features deep returns with windows surrounded by thin-brick-covered precast panels and spandrels supported off the returns. Cantilevered bay windows are featured at the end of each floor, and hollowcore floors are covered with a sound mat and polished concrete topping, providing residents with an added sound barrier against the hustle and bustle of the city.
The most interesting feature is a second floor roof area. Exterior of each upper floor consists of horizontal, architectural-finished precast panels which also function as trusses, spanning 40 feet and resting on columns below. At their bottom, these panels support hollow-core planks to one side that form a second level roof deck and, to the interior, support the planks of the third floor. At the top of the panels, a bearing angle picks up the hollowcore planks, forming the fourth floor level.
It was very exciting. The exterior precast panels are not only structural, they are insulated. They also perform as architectural panels. And, the building wen up literally in just a few months. We did an analysis early in the process. With the given time schedule, we realized that we could save a couple of hundred thousand dollars if we went with precast over conventional building systems. Total precast, seven story homeless shelter. Originally designed to be a cast in place structure, precast proved to by more economical and had a fasted overall construction schedule.