Lutheran church and school, Our Redeemer, expanded their footprint in the Madison area with a new 6,500 sq ft gym. Wells supported by manufacturing and erecting buff-colored insulated wall panels with a patterned textural element comprised of acid etch, exposed aggregate and smooth form finish. The design incorporates a relief where the aggregate is featured to create further dimension and interest.
The gym has structural and architectural design features to allow for future additions. Prefabricated columns and a beam frame a large window that will ultimately become the opening for an expansion with a future stage. Classroom additions off the gym are planned as well, and the prefabricated design allows for easy future expansion.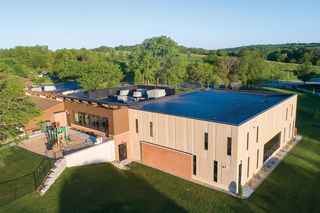 Wells was a partner early in the design process, incorporating the architect's vision for the panels and assisting with finish selection to seamlessly connect the new construction with the existing building. Prefabricated building solutions worked well for the design of the gym's tall walls, creating efficiency in the manufacturing process. The long-span roof joists are easily carried by the structural precast that doubles as the architectural exterior. With Wells, the client received a unique architectural look, using a variety of finishes, all at an efficient price-point – allowing Our Redeemer to optimize funds to continue future planned upgrades to the church and school.