Fostering employee well-being as a long time community member.
Ensuring employee well-being was kept at the heart of the development, the new Prime Therapeutics Boulder Lakes Office headquarters and campus is a landmark to serve its 2,000 occupants. Inside, the environment encompasses enhanced light and open stairways to encourage and promote internal mobility and collaboration.
Appreciating and building on a decades-long relationship with the community, this new landmark consolidates the two Eagan offices as well as its Edina and Mendota Heights office into one inclusive corporate campus. With the thousands of high skilled jobs at each location, the new Prime Therapeutics Boulder Lakes Office headquarter will heavily focus on their team members to be the best community partner as possible.
Design and functionality.
Encouraging team collaboration, the flexible workspace within the building includes a variety of formal and informal work settings including benching, booths, conference rooms, and focus rooms. The conference center features a 300-seat auditorium that can be opened up for overflow seating as well as pre and post-event functions. The dining area and adjacent terrace overlooking the landscape and lake are designed to be used as an alternative informal workplace, featuring wireless access and comfortable furniture.
Employees can enjoy a vast amount of amenities within this 5-story building, including a secured public lobby and full-service cafeteria offering healthy, artisan food, a Caribou Coffee, an expansive dining area and deck overlooking the site, as well as a fully-equipped fitness center and outdoor walking paths around Lake Shanahan.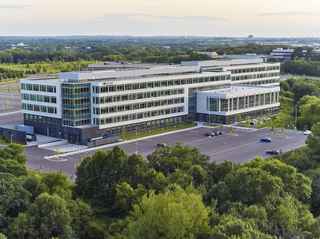 Consolidating our offices will provide long-term operational efficiencies that will provide financial savings for our company and our clients, while meeting current business needs and future business strategy. Eagan has been and continues to be a perfect fit for Prime as the majority of our Minnesota-based employees are already in Eagan. This new facility will minimize team disruption and enhance collaboration. I look forward to continuing our strong working relationship with city leadership as we evolve Prime's presence in Eagan.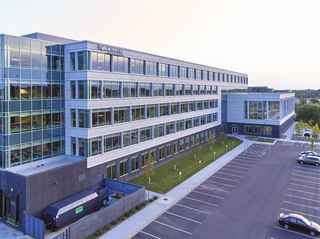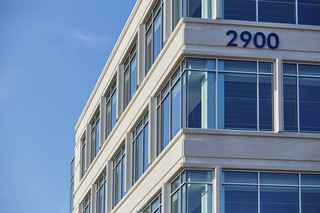 Innovations to provide a hub for collaboration.
Building on a development with zero disturbance allowance, the project team needed to brainstorm an alternative plan to erect the panels. As a result, nearly a quarter of this project was blind set, installation of the precast on north side was had to set over the building with a 400 ton crawler crane. Both tall orders for such a massive project, but nothing the entire team could not overcome with enhanced coordination and collaboration.
To accommodate the aggressive project schedule, an intense coordination effort between the design team, engineer of record, steel fabricator, precast supplier and specialty engineer was undertaken. To speed fabrication and erection, all precast cladding supports were designed and detailed to be shop-fabricated as part of the structural steel building frame. This required close coordination between all team members to ensure critical design information was communicated and integrated into both the construction documents and shop drawing submittals.
Precast panelization, panel loading, and connection details were developed and coordinated during the design process, allowing review of precast submittals and fabrication to commence ahead of the final core and shell construction documents. The minimal field issues encountered during erection was a testament to the team's effort to deliver an elegant, efficient precast envelope solution.
Not just a pretty face.
A timeless architecture is achieved through only two exterior materials: precast concrete and glass, simply detailed and beautifully crafted. Respecting the project budget, the exterior is precast concrete and glass. The aesthetic of the precast is elevated by horizontal banding, vertical accent fins, color variation, and textural differences.
Nearly 70,000 square feet of both black and white insulated precast concrete spandrels with an acid etch and polished finishes were used on the exterior façade.   The precast producer was involved in an extensive collaborative effort with HGA in designing the structural systems to support precast.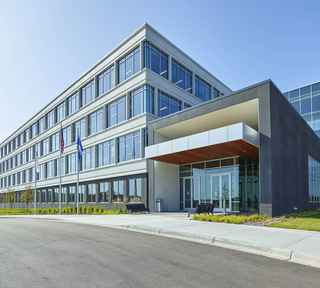 Our project designer sums up this project and its use of precast well, "The combined characteristics of prefabrication, design flexibility, and price point made the use of precast concrete cladding an optimal choice for the project. The slender, ivory colored, horizontal spandrel elements give the building a visual lightness. A vertical precast concrete fin, featuring a polished front edge, punctuates the building facades at 15' on center. Projecting beyond the spandrel units, the fins cast shadows that change throughout the day and animate the façade. Using dark integral color precast panels at the building base helps to ground the building and suggest a change in material while gaining the economies of using precast as the primary exterior material."