UW Health, a health system integrated with the University of Wisconsin, serves over 700,000 patients every year across the Midwest. To expand medical care and enhance patient experience, UW Health is adding a 469,000 sq ft, seven-story ambulatory medical center to their east campus, housing a variety of specialty care services, including women's complex care, adult cancer care, advanced imagery and clinical trials. The facility is equipped with a photovoltaic array that is expected to generate solar power for 30% of the campus' energy needs. Accompanying the large medical center is a five-level, 846-stall total precast parking garage with spaces for electric cars.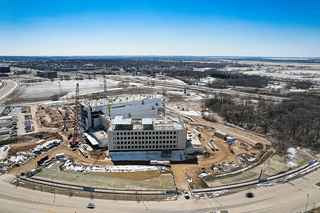 UW Health chose total precast for their parking garage because of its many benefits and value – a fast construction schedule, combined with quality finishes and a competitive price. To easily match the architectural finishes of the total precast parking garage, prefabricated architectural cladding was used on the exterior of the medical center – integrating existing finishes to create a uniform look across the campus. A combination finish incorporating pigmented off-white acid-etched cement and modern projected architectural elements creates a high-quality look for the facility.
The project wasn't without challenges. The structure utilizes extremely complex pieces that required a CNC machine to accurately build the forms for casting. Additionally, designing and segmenting the pieces around window systems required engineering expertise to ensure long-term performance of the structure.
The UW Health Eastpark Medical Center is a prominent view from the freeway, showcasing the high-end architectural capabilities that Wells offers to anyone who drives by. Once completed in 2024, the medical center and parking structure will be a state-of-the-art facility, serving families across the Midwest.