Supporting patient convenience and compassionate care Swedish Covenant's new ambulatory surgery center and parking structure provides state-of-the-art care on the upper three floors and accommodates 260 cars across the bottom five floors.
"The development of the Center for Ambulatory Surgery at Swedish Covenant reflects the growth of the hospital's surgical program," said CEO Anthony Guaccio. "Swedish Covenant is seeing growth in robotic, vascular, orthopedic, cardiac, women's health and neurosurgery surgical volumes," he noted. The design provides additional space on the eighth floor that can be converted into a fourth operating room, if needed in the future.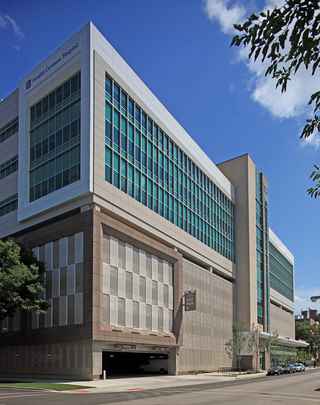 Utilizing a full precast concrete build, provides advantages in this congested urban setting, positioning a medical center on top of a parking structure. The use of precast concrete systems reduces vibration and decreases noise transmission, to support a soothing environment on the top three floors without disruption from the parking structure below.
The design flexibility of precast concrete made it possible to create a building with personality. The hospital wanted to create a building that fit in well with neighboring retail establishments as well as a residential neighborhood. Hospital, city and neighborhood representatives worked together to express their desires to the building team so a design could be created to complemented neighborhood.
A connecting enclosed walkway joins the new medical building with the existing professional plaza that houses physician offices and x-ray and related laboratory services.
Harnessing the ease of constructing with precast concrete that is manufactured off-site, the Wells team completed the framing of the building and construction of the parking structure in just over seven weeks, but the structure will continue to provide long-term savings for the hospital for years to come.