The Family Partnership (TFP) is an innovative and impactful 141-year-old community-based organization that serves families in Minneapolis impacted by poverty and adverse circumstances. In recent years, demand for TFP's programs had risen by 50 percent, leaving many families without crucial support.
The new building addition provides three times more space for TFP programs; expanding educational spaces for infants, toddlers and preschoolers with an indoor gym and outdoor playground and adding convenient and flexible mental health and therapy services. These improved amenities create supportive, convenient, and private safe spaces, including collaboration space and multi-purpose community rooms. With the new building, TFP can improve services to provide a two-generation (2Gen) approach, which is proven to interrupt the cycle of intergenerational poverty and trauma.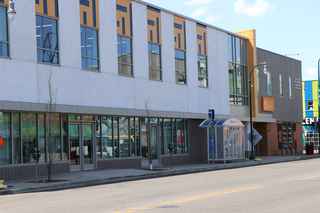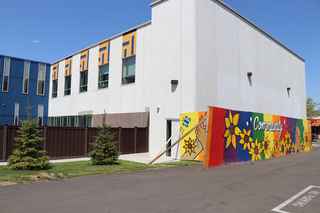 The vision for this project was to focus on the neighborhood, the community and the variety of ethnicities represented. Wells utilized Graphic Concrete® to provide an interesting and thoughtful architectural façade treatment; allowing the design team to put a creative and personalized stamp on this community building. Graphic Concrete® patterned paper films provided the solution the team was looking for as the exterior building components could represent the neighborhood graphically. Being cognizant of budget, standard Graphic Concrete patterns were manipulated to create a variety of organic and geometric designs.
Another unique feature on this project is a welcome column at the main entry, north elevation, where the new construction is connected to the existing building. The column contains a map of the neighborhood that highlights the public parks and displays the word 'Welcome' in many different languages including Braille. The final result is a welcoming community center that bolsters the resources available to local residents.