The power of community
This 10,000 sq ft community recreation center took over a former downtown Austin decommissioned power site. Brought about by a partnership between the City of Austin and the YMCA, and supported by Vision 2020, this facility provides community members a safe, affordable and healthy environment to meet, play and exercise. The site was chosen for its ability to redevelop a larger underutilized site and create a central, easily accessible community destination.
The two-story recreation facility includes a gymnastics area, community education and event space, leisure and lap lane pools, a wellness center and an indoor play area, gymnasium, track and basketball courts. The overall design allows the YMCA to operate designated areas, while City-financed spaces like the youth activity center and indoor playground are free and open to the public. The building and site were planned for future expansion possibilities.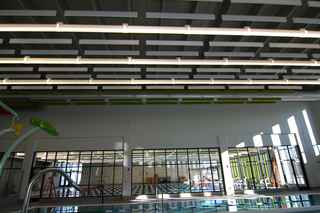 Wells designed, manufactured and erected the facility, using two different colored architectural mixes and three different finishes, with thin brick in a stack bond, polished white and dark charcoal acid etch to build variety into the design. The final design utilizes over 122,000 sq ft of precast solutions including architectural insulated walls, hollow core plank, structural solid walls and double tee, amongst other products, allowing for a fast project schedule with construction starting in November 2018 and completed by January 2019.