Addressing Embodied Carbon during Prefabricated Concrete Manufacturing Process
Newly constructed buildings, and the materials to create them, in recent years have been in the hot seat for "embodied carbon" of the building components. To address this, the prefabrication / precast industry has worked to understand problem areas and identify solutions for implementation, to reduce carbon footprint and make operations more sustainable.

Put simply, embodied carbon is the cumulative carbon footprint of a building or infrastructure project before it becomes operational. That includes any carbon created during the manufacturing of building materials, the transport of those materials to the jobsite, and the construction practices used in their installation or erection.
To get a handle on embodied emissions in products, prefabricated building solution manufacturers are tracking cumulative greenhouse gases during all three stages of a project's life cycle – from cradle to grave – as well as the material's impact on emissions once a facility becomes operational, also known as "operational emissions."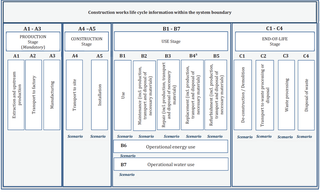 Reducing one's carbon footprint, however, requires a multi-faceted approach that can vary depending upon the situation and location. With that in mind, the Precast/Prestressed Concrete Institute (PCI) performed a full lifecycle comparative analysis to identify the manufacturing process environmental hotspots with the most significant carbon impact, then they crafted a Product Category Rule (PCR) to support consistency across the industry.
With a belief in the value of transparency, Wells is a member of Sustainable Minds® Transparency Catalog, a "centralized source that allows designers to source building materials with the lowest embodied carbon impact, in every MasterFormat® section, to build internal specification and Basis of Design digital libraries." (Sustainable Minds®)
These efforts represent a monumental step in propelling the industry toward a more sustainable future, and it comes none too soon – owners and architects are increasingly requesting Environmental Product Declarations (EPDs) as they seek to understand how the products fit into the environmental framework of their structures.
Reducing carbon footprint is just good business.
Prefabrication manufacturers are looking for ways to reduce their environmental footprint simply because it's good business. In recent years, many project teams have pivoted away from conventional materials to prefabricated products due to their lower lifetime carbon footprint, minimal jobsite risk and reduced transportation costs. Prefabricated products can also provide greater flexibility for design and construction.
What building materials manufacturers are doing about carbon.
At Wells, a prefabricated building solutions provider, precision has been enhanced by the addition of a new batching facility that manufactures concrete in more accurate amounts, further eliminating waste to be better stewards of the environment. Wells is also experimenting with new strategies and solutions at the front-end of the manufacturing process; using limestone, slag, metakaolin, silica fume, natural pozzolans and geopolymer mixes as aggregate, and incorporating fly ash as a Portland cement substitute to reduce embodied carbon in the mix by up to 15 percent.
Wells is also working to develop more tightly controlled manufacturing processes, backed up by its own in-house mix design software, with the intention to produce less waste in the batching process and thereby reduce delivery frequencies and durations. And by securing aggregates and other materials from nearby and local sources, it significantly reduces transportation miles.
Another measure is to make smart investments to reduce operational spend. When Wells built a new manufacturing facility in Brighton, Colorado, we focused on creating an energy efficient, state-of-the-art building. Wells also continues to make significant investments in capital improvements across other manufacturing locations, performing energy assessments to understand opportunities and implementing solutions to avoid or reduce waste in processes, including the installation of LED lighting, use of recycled products, reclaiming of water and waste and the repurposing of excess concrete as road base material. Beyond this there are other ways manufacturers are reducing their footprint, from renewable energy to exploring and testing emerging technologies like algae to sequester carbon or nanotechnologies, the industry is continuing to shift and evolve.
While there is no silver bullet to solving carbon impact, the cumulative effect of all these changes is intended to push the building industry forward in a positive way, as it not only introduces a more efficient, and profitable, approach to manufacturing, but ultimately facilitates a much-needed reduction in the carbon footprint of new construction.
To learn more about Carbon Reduction Strategies and earn CEU credits, watch Wells on-demand course at wellsconcrete.com/webinars.