Wells restoration services.
At Wells, we specialize in a wide range of concrete and masonry restoration services including cleaning, crack and facade repairs, deck and slab coatings, recaulking, and parking ramp restoration with maintenance plans. Interested to learn more about our variety of services?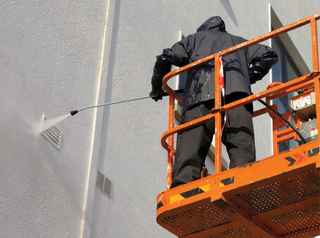 Restoration and preventative maintenance matters.
With proper care and maintenance, buildings can last for generations. For developers, contractors, and facility owners, restoration offers a cost-effective alternative to replacement. Maintaining the existing facades of your building not only saves you money but also preserves historical features, along with a variety of other benefits.
Building performance: Restoration isn't just about aesthetics; it's also about building performance. Our expertise ensures that your building operates efficiently, saving you money on energy costs.
Building condition: Regular maintenance and upkeep are essential for keeping your building in pristine condition. Our restoration services help prevent cracks, water infiltration, and other issues that can compromise your structure's appearance and performance.
Life of structure: Our restoration services extend the life of your structure, helping buildings last for over a century. Historic buildings can retain their original charm and materials, ensuring they stay true to their community aesthetic.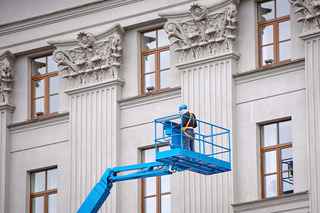 Wells has the knowledge and resources to tackle even the most challenging restoration projects. Restoring historic buildings requires specialized knowledge and techniques, and our team has the technical expertise to select the right materials for every application, restoring a structure back to its original historical state.
We stay at the forefront of restoration innovations by actively seeking out new materials and equipment — ensuring we provide you with the latest and most effective restoration solutions. We use certified restoration materials from leading manufacturers like Sika, Tremco, and Euclid Chemical. Our team understands the importance of preserving original aesthetics while improving efficiency to achieve long-lasting results.
Wells is part of International Concrete Repair Institute (ICRI) and Sealants, Waterproofing & Restoration Institute (SWRI).
Restoration service examples.
TTEC Office Restoration
Worldwide digital software leader TTEC required repair and restoration of its Englewood, CO, global headquarters – constructed as a total precast office building with Wells Building Solutions (formally RMP) in 1999. In the almost quarter century since conception, the unique ringed architectural landmark lacked a robust building maintenance plan. Taking advantage of a relatively empty building during the COVID-19 pandemic, the company invested in fixing up the headquarters inside and out.
Structural Engineer S.A. Miro performed an analysis of needs and brought on Wells to establish the scope of restoration. The interior repairs were performed by The Weitz Company, with Wells' Sealants and Restoration Team working simultaneously on the exterior.
Restoration of an existing building comes with unique challenges, and because TTEC is located adjacent to a highway, the building façade attracted dirt and pollution and was severely stained by irrigation over-spray. The Wells team washed the entire building and made cosmetic repairs, replaced joint caulking and, to help protect the building from future damage, applied a silane-siloxane water-resistant sealer – all while protecting the existing, mature landscaping. Due to the age of the building and the ever-changing supply of aggregate, the original stone mix was no longer available, so the Wells Sealants and Restoration team created a repair mix that inconspicuously matched the existing building.
Although long overdue for maintenance, the building remained structurally sound and showcases the resilience of concrete as a building material. Now that repairs have been completed and a preventative maintenance plan is in place, TTEC will have a durable and beautiful headquarters for years to come.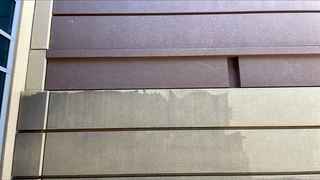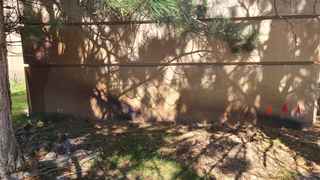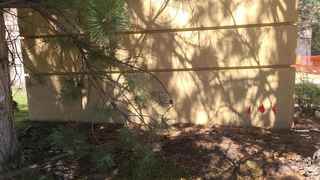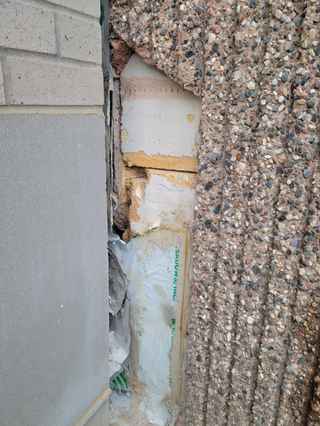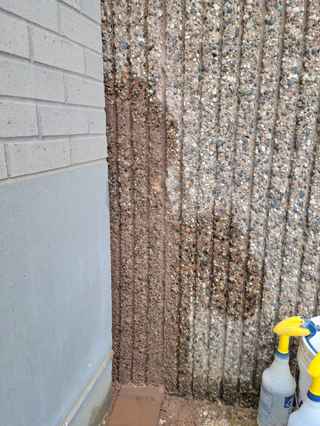 Concrete restoration — This shows how our team of experts was able to replicate the initial mix and seamlessly patch, matching the existing texturing.

Concrete restoration — When a car crashed into this wall, it required a comprehensive repair to seamlessly match the existing precast wall.

Precast wall panel crack repair — Our team is able to help remove the appearance of unsightly cracking by color matching the finish to make a seamless appearance.