This project scope is limited to work performed by Wells Sealants and Restoration team.
Built in 1997, the Tommy G Thompson Center is an over 150,000 sq ft mid-rise government office building, with underground parking ramp, located in an urban setting in downtown Madison, WI. Just a few blocks down the street from the Capitol, the facility is home to the state government offices of the Department of Children and Families, the Wisconsin Economic Development Corporation and the Wisconsin Elections Commission.
Wells Sealants and Restoration team was hired to provide restorative services for the building originally constructed in stone slab, to lengthen the life of the government facility. Unlike new construction, when a building undergoes restoration, it is still actively used by its occupants. Careful planning and scheduling by the Wells team guaranteed entrances were not blocked and that every tenant was able to go about their daily activities.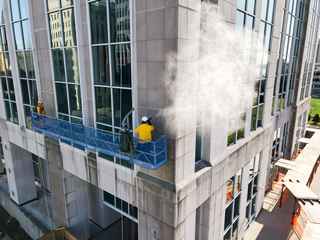 The 25-year-old limestone façade of the building needed a variety of restorative services including cleaning, recaulking, waterproofing and crack repair. The limestone panels were cleaned with a hot water pressure wash. For the recaulking of the joints, our team of experts removed the old sealant and used a non-staining silicone sealant to reseal the joints. Any cracks in the limestone panels were repaired by epoxy injection. At a few locations on the plaza deck, split slab waterproofing was performed. The restoration that Wells provided extends the life of the building, eliminating the need for joint repair for the next 20 years.
The restoration services, resulted in a clean and untarnished building exterior, with waterproof joints, upgrading the building's durability and elevating the appearance to its original grandeur from when it was first constructed over 25 years ago.