This 11-story, Class A office building tower and parking structure design incorporates mostly brick and glass and provides a modern take on the durability of a brick warehouse building. Supporting mixed-use functionality, the development also features approximately 5,000 sq ft of shared outdoor amenity space, 3,500 sq ft of retail space on the ground level, a fitness facility, public locker rooms and an indoor bike room with access to and from the linear park space.
A glass vertical element is intentionally located off-center on the building to allow for a dramatic lobby connecting the plaza to the park, while maintaining a centered vertical circulation core. It also allows for a direct relationship with a future building to the south.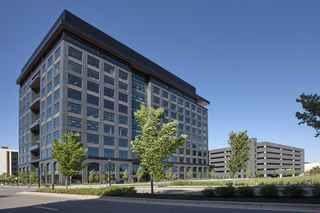 The exterior materials on the office tower are primarily brick and glass, with architectural precast spandrel panels linking glass elements on every other floor. Precast thin brick arches and a deeper brick expression, softens the base, adding character to the pedestrian experience.
The 1,214-stall parking structure is a 3-bay wide design with vertical vehicular circulation occurring in the center bay. The façades on all four sides are flat and clad with integral color architectural precast.