Located in the business-friendly high-end Denver neighborhood of Cherry Creek, 100 Saint Paul is a 149,000 sq ft building with tenant office spaces on eight floors. The ground level has 14,000 sq ft of street-facing retail space, which sits above a below-grade parking deck. The office building also boasts a large grass-covered patio area for gatherings and events.
The developer wanted a large window-filled building with accents of color, so collaborating with HKS, the architect, Wells architectural building solutions feature acid-etched buff-colored panels to clad the building on the sides and back. The front of the building features slightly darker polished granite cladding near street level, but due to the high cost of granite, Wells manufactured acid-etched concrete that simulates granite on the back, matching the finish while reducing costs.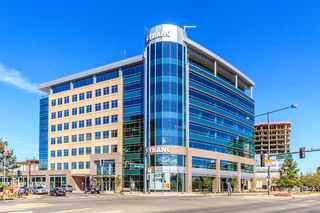 The vertical panels span two stories each, covering the structural columns underneath. Spandrels frame the windows horizontally to complete the look. Each panel incorporates formliner and reveal features; the formliner gives the panels depth, while the reveal creates indented lines for added visual interest. The outcome of this design creates a beautiful mid-rise building that complements the neighborhood.