If you can picture the area of nearly five city blocks put together, then you can fathom the 1,100,000 sq ft Aurora, CO-based Amazon DEN8 office and fulfillment center. This 500-aisle distribution center houses about 20 million products available from Amazon's website and is the first Amazon fulfillment center in the state – operating 24 hours a day, seven days a week. With the need for over 1,000 full-time employees, the opportunities for well-paying jobs this warehouse provides will benefit the community for years to come.
The entrance of the building utilizes an architectural dark gray formliner finish to give the otherwise simple exterior an interesting aesthetic texture, which complements the distinctive Amazon smiling arrow logo showcased in front. The rest of the building features texturized painted concrete to accent the logo and create additional appeal.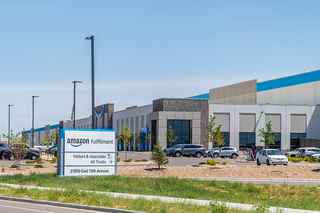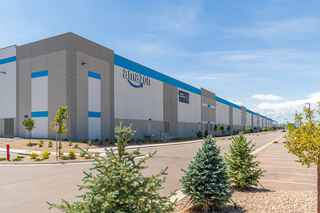 Over 500 prefabricated structural insulated walls were needed to construct the massive building, and Wells was able to install them in a few short months. Amazon requires additional space between their dock doors and wanted to avoid a potentially delayed oversized truck delivery with the expanded prefabricated dock door panels. The Wells team created customized narrow panels that were inserted in between the wall panels to achieve the correct spacing without delay or the need for a special delivery. Our design and engineering departments were also able to proactively adjust the way the panels were erected to improve construction efficiency. The accelerated schedule allowed for other trades to quickly follow the precast erection to get the fulfillment center up and running as soon as possible – expediting Amazon's strategy of expanding reach and providing faster service to their customers in the Colorado area.