There is never a one-size-fits-all solution to creating structures suited for manufacturing — particularly when expanding an existing operation. Wells assisted this client's design team with conceptual designs for an 88,000 sq ft expansion of an aerospace manufacturing research and development facility. The design team sought our expertise and collaboration in framing out the overall layout, as well as understanding the unique makeup and possibilities of the different building solutions — including prefabricated walls and spandrels — to ensure a sound structure, and efficient timeline.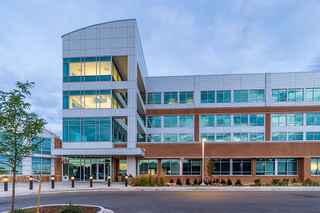 To meet the client's requirements the expansion accommodates a high bay manufacturing facility with cleanrooms, and a four-story office complex. In addition to meeting the high load-bearing requirements for this new and versatile space, the new facility matches the architectural design of the existing campus — namely, its dual-colored, field-laid brick exterior. In a span of less than four months, Wells constructed a total precast facility, with an office building, as well as the high bay manufacturing area, using load-bearing architectural columns and spandrels.
The two-story high bay manufacturing area utilizes insulated industrial walls painted a traditional, unassuming slate gray and is topped with a double tee precast roof, designed to support additional metal structures incorporating mechanical components— with load requirements as high as 250 pounds per sq ft.
The interior is framed with T-Beam columns for additional reinforcement, creating one supported level, a floor and roof. To achieve the heavy loading floor strength, Wells leveraged larger tees, installed deeper than usual, beneath the facility's foundation. These key structural components, along with strategically reinforced interior wall paneling, enabled the installation of large interior viewing windows — through which investors could view projects in progress — to meet the manufacturer's requirements for its research and development projects.
Wells leveraged nearly its full suite of prefabricated market solutions to create this comprehensive office and manufacturing facility that is structurally sound, aesthetically seamless and efficiently constructed.