Contemporary aesthetics.
Innovation One in Wauwatosa, WI, is a 70,000 sq ft commercial development undertaken by Irgens Partners LLC, a prominent real estate development and property management firm. Irgens relocated its headquarters from downtown Milwaukee to Wauwatosa and is occupying 16,000 sq ft of space in the Innovation One building.
Innovation One is a result of meticulous planning and innovative design concepts, from local architecture firm, Kahler Slater. The building not only meets the increased demand for office space in the Milwaukee suburb of Wauwatosa but is also the first leasable commercial office building in the new Innovation Campus business park — establishing high-quality and innovative office space. The development includes a state-of-the-art 633-stall parking structure, ensuring ample parking for employees and visitors.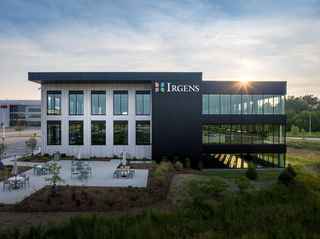 The architectural style of the building blends modern aesthetics with functional spaces, making it an attractive workspace for various businesses. The exterior design utilizes a combination of prefabricated architectural insulated load-bearing panels, stained in two tones to provide depth to the design and emulate the appearance of metal panels, while also complementing the nearby parking structure. Additionally, Wells' structural prefabricated solutions, such as hollowcore plank, beams and columns were used at the first floor above the basement parking.
With its strategic location, multi-tenant setup, and innovative construction, the new office building is set to become a landmark in this new Wauwatosa business district, fostering growth, collaboration, and success for the tenants and the surrounding community.