A total precast landmark.
One Belleview Station is a total precast office tower that consists of ground level retail with high floor-to-floor clearance and four levels of structured parking topped by a ten-story, 333,000 sq ft office building.
Precast construction for the new office was picked over steel during schematics. The result is a cost-effective but striking design. Sculpted ribbon walls of precast spandrels and glass are dramatically bordered by bold prefabricated strips that picture frame the building. The stunning structure achieved LEED Gold certification.
The building was created using a variety of load-bearing prefabricated building solutions for its structure. Construction of the core-and-shell development consists of limited cast-in-place (CIP) concrete stair and elevator cores. A small retail extension on the West façade is structural steel.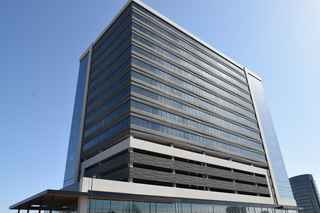 The project's integral parking facility connects to an attached, exterior parking garage that also utilizes precast spandrels and field-topped double tees. There is also one level of below-grade parking. Combined, the parking facilities cover 378,000 sq ft and provide space for 1,100 cars with a ratio of 3.5 spaces per 1,000 sq ft of office space. A ramp system provides garage circulation.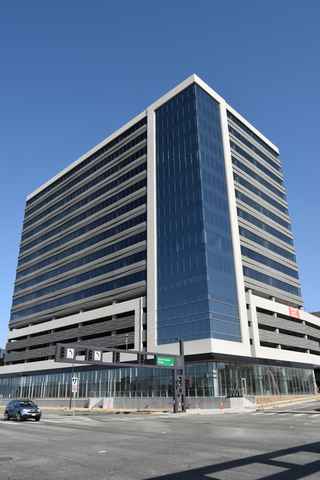 A transit-oriented development.
The new office is a main structure in Belleview Station, a 42-acre, Transit Oriented Development (TOD) just west of the 850-acre Denver Tech Center (DTC) in the Denver Southeast submarket, the city's largest office submarket. The master-planned, mixed-use Belleview project, developed by Front Range Land and Development, includes 2,200,000 sq ft of office space, 250,000 sq ft of retail space, shopping, dining, parking, 1,800 residential units, and hotels.
Covering 2.89-acre, One Belleview Station is located at the Belleview Station light rail stop, near bus transit and at the confluence of I-25, the major North/South traffic artery in Colorado, and I-225. The rail station offers direct access to Denver's central business district and downtown. A new commuter rail line provides service to Denver International Airport. FasTracks connects to Boulder, Golden and North Denver.
Though built cost-effectively, the building's tenant amenities were not sacrificed. The 17-foot-high building lobby features wood accents, a cedar ceiling, frosted glass, stone walls, and stone benches that continue outside. Included are work areas, service amenities, media zones, and touch-screen monitors for tenant information, restaurant and hotel locations, weather reports, and light rail schedules.
Office floors provide maximum tenant flexibility with 9½-foot ceilings and column-free open space from exterior walls to the building cores. Amenities include high speed elevators, Comcast CATV and phone service, a tenant fitness center, exterior plaza, and patio lunch/break area. Tenants have panoramic views of the Rocky Mountains, Pike's Peak and downtown Denver.
Sustainability
Achieving LEED Gold certification, the project features an energy management system that provides for after-hours zoning and a high-tech HVAC system with digital controls. Precast components were all locally produced and off-site precast production helped divert waste from the landfill. In addition, the structural precast concrete mix contains up to 25% fly ash.
Sustainability features include low mercury lamping, and water efficient landscaping. Spray foam insulation assisted in the design of an efficient building envelope. As a Transit-Oriented Development the structure achieved the LEED Alternative Transportation credit.
Sustainable design allowed the project to achieve the following:
Up to 40% Water Use Reduction via efficient plumbing fixtures and equipment
Goal of 75% waste diverted from landfill via Construction Waste Management(Recycling)
Goal of 20% Recycled Content in Materials
35% Green Power Certification
Daylight and Views Credit from 90% of the space.