Exact Sciences is a molecular diagnostics company specializing in early-stage cancer detection. Located in Madison, WI, the nearly $2 billion company developed a campus by renovating a vacant 156,000 sq ft building and adding an adjacent 109,500 sq ft structure to use as a new Customer Service and Employee Amenities facility.
The buildings use state-of-the-art sustainable design, including deep overhangs and vertical solar fins to control solar gain during the summer while allowing more natural light in during the winter. The Amenities facility features a dining area and kitchen providing locally grown food year-round for employees.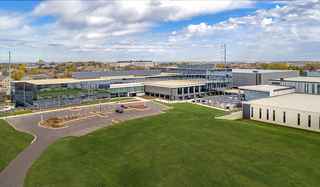 The existing office building was structurally sound, constructed nearly 30 years ago with post-tensioned and precast concrete and steel. Instead of tearing it down and rebuilding, the structure underwent a total transformation into the modern facility it is today. Wells insulated architectural wall panels clad the exterior of the building in a showcase of contemporary designs – featuring different planes and colors for an interesting pattern. Each panel uses a variety of finishes, from acid etch to exposed aggregate, and custom-made formliners were used for the intricate detailing. In some areas of the structure, prefabricated veneer panels were used to cover up cast-in-place retaining walls. Near the entrance of the office, eight four-sided structural columns received cladding to match the building, some feature the elaborate faceted formwork used on the rest of the building.
Wells was brought into the project very early on by the Findorff and Potter Lawson construction and design team, leveraging our expertise to guide the look of the panels and layout – ultimately showing how precast could achieve their desired aesthetic, while benefitting the project with its efficient construction and durability.