Creating CHS Field and integrating the St. Paul Saints' new home into its Lowertown neighborhood required teamwork to overcome budget, site and other constraints. The St. Paul Saints' new ballpark incorporates elements of Lowertown's historic architecture. The playing field and entire seating bowl is located below street level, reducing the overall visual impact of the ballpark in the neighborhood. Wells prefabricated beams and columns support 75,000 sq ft of hollowcore plank for the main concourse. Supporting the prefabricated risers are precast raker beams and more columns. Wall panels make up the elevator core, the perimeter wall in the outfield and the black batter's eye wall.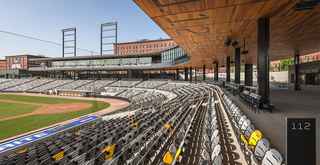 The project took shape through a collaborative process that brought together design, construction and engineering experts with city staff and local interests on the Lowertown Ballpark Design and Construction Committee. About half the stadium's $64 million budget went to acquire the 10.4-acre site and do underground utility work and clean up – what had been among the state's most contaminated sites, according to Ryan Companies.
Fitting the 7,000-seat stadium into the site and building it next to Interstate 94, city streets, a highway bridge undergoing reconstruction and Metro Transit's Green Line maintenance and operations center presented challenges, including scheduling deliveries. Sustainable features include a 102-kilowatt solar array and a storm water recycling system that flushes stadium toilets and helps irrigate the ballfield's turf.
The effort of the project paid off, with the stadium earning awards for a traditional-meets-modernist design that complements its historic warehouse surroundings, gaining further honors as one of the nation's greenest ballparks and helping the Saints set record attendance levels.