Part of a larger campus of supportive housing, the Catholic Charities' Higher Ground Saint Paul seeks to address long-term homelessness through a progressive combination of overnight shelter and permanent supportive housing.
This cataclysmic community project consisted of two phases on a site near the Xcel Energy Center. The "Higher Ground Saint Paul" first phase included an emergency shelter and different permanent housing options at 411 Main Street, next to the current Dorothy Day Center. The building was modeled from the previous Wells project, Higher Ground Minneapolis.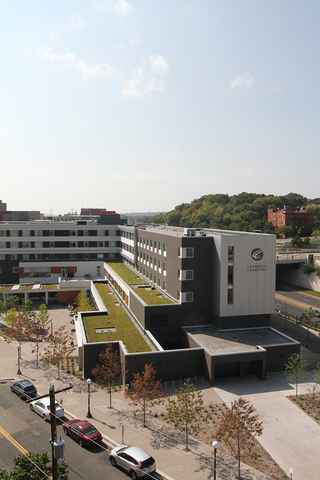 The first floor includes an overnight shelter with over 230 bunks; the second floor includes a 48-bed "Pay for Stay" shelter where clients pre-pay for their stay up to a week in advance. The second floor units have increased privacy in the sleeping area, secure storage lockers, a resident lounge and computer lab.
For residents who are ready for more permanent housing, 193 single occupancy room units are also available on the first through fifth floors. Independence increases as the building rises from shelter to supportive to independent housing, transitioning from temporary to permanent, increasing stability and independence. The building is ultra-durable on the lower floors and becomes increasingly domestic as residents move from shelter to home. Support services abound, including meal service, a medical suite, a computer lab, commercial laundry and "hot-box" for bed bug abatement on the shelter floors. The upper housing floors include resident kitchens, lounges, computer labs, laundry and office space.
The outcome of this project is providing modern and accessible shelter and social support for Saint Paul's most impoverished community members.